IO-Link meets digital I/O
Smart Communication Module
The Smart Communication Module (SCM) is a master gateway that is suitable for all Zimmer-IO-Link components. With its two channels, the SCM can control two devices and on a functional level, offers the direct implementation of IO-Link to digital I/O. The module thus makes it possible to integrate IO-Link devices into a digital infrastructure and utilize almost the full extended range of functions of the IO-Link device.
Translates IO-Link to digital inputs and outputs (digital I/O) and from digital I/O to IO-Link
Easy control of intelligent IO-Link grippers via 24 V digital I/O
Configuration and training take place using the corresponding intuitive guideZ software
Can be used with one or two grippers depending on the flexibility required
Up to 15 different workpieces can be trained for one gripper

1 Status
Status display of SCM and IO-Link device
2 Ethernet / RJ45
Temporary connection for gripper configuration
3 Digital input
Digital inputs for controlling the gripper actuators
4 IO-Link / Device 1
Gripper module 1 connection
5 Digital output
Digital outputs for monitoring the gripper sensors
6 IO-Link / Device 2
Gripper module 2 connection
7 Power supply
Voltage supply SCM and gripper
Configuration and operation
Up to two Zimmer IO-Link devices can be connected to one Smart Communication Module. The digital inputs and outputs are wired directly to the robot controller or PLC. Simple digital control enables bidirectional communication. To configure the gripper parameters, a temporary network connection is established to a commercially available PC.
As soon as the parameters have been configured intuitively, this connection is no longer necessary. Next, the handling unit is automatically controlled directly via robot controller or PLC.
IO-Link gripper
Digital I/Os on the robot control system/PLC
Power supply
Temporary network connection via PC for use of the guideZ, expertZ and monitorZ software
The SCM is installed in the robot control cabinet, where it communicates directly with the robot control system using its digital I/O. On the gripper side, the 5 pins of the IO-Link are connected directly to the SCM, using an external or (where available) internal line.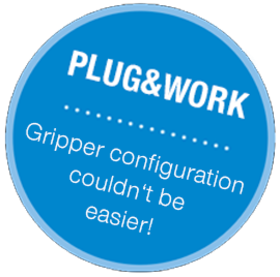 ---
guideZ CONFIGURATION SOFTWARE
guideZ is a wizard for commissioning components quickly and extremely easily. It enables user-guided implementation and commissioning for all skill levels. Users can switch between guideZ, expertZ and monitorZ mode with one and the same software module.
The parameter data of this 7-step commissioning process can be quickly and easily adapted to any PLC control system or even robot controllers. Plug&Work doesn't get any more intuitive!
expertZ AND monitorZ
3. PERFECTION AND MONITORING
PERFEKTION THROUGH expertZ
expertZ is the software tool for all gripping experts. It makes it possible to optionally optimize the gripper parameters defined in guideZ for the specific application.
monitorZ is used to monitor gripper unit status at a glance during operation. Gripper positions, operating statuses – everything on one screen to guarantee maximum system availability.