DIGITAL ALTERNATIVE FOR THE CANCELLATION OF THE SPS
The SPS - Smart Production Solutions 2021 trade fair in Nuremberg was canceled last Friday. Nevertheless, we are now able to offer you a special digital alternative for the start of the SPS fair this week. Here we are going to present you interesting topics relating to our product highlights, which we had initially planned for the SPS. In interviews with our experts and many specially prepared videos, we will also bring you closer to our latest achievements in digitalization and automation in a digital way.
So be curious! You can find out more about it starting from the 24.11.2021, updated daily, at our digital inhouse exhibition.
You can also follow us on LinkedIn to stay posted with the latest updates on our digital trade fair!

Introduction
Wednesday morning
TwinStore / Digital twin
Wednesday morning/noon

Product finders (grippers, dampers, linear technology)
Wednesday afternoon

Drill head woodworking
Thursday morning

Our experts in exchange at the "round table"
Thursday noon

DigitalZ with SPS-FB, SCM wired, Apps
Thursday afternoon

MATCH
Friday morning

Energy elements
Friday noon
Wireless-IO-Link BCM
Friday afternoon
---
The TwinStore is an online store for simulation models for the virtual commissioning of your plant. Here you will find virtual product catalogues from the Zimmer Group as well as many other manufacturers from the fields of handling, drive and conveyor technology, among others. By using these existing simulation models, you can significantly reduce your modelling times and also simulate irregular operating modes, dynamic parameterisation and real-time behaviour. Seamless integration into the runtime environment of ISG-virtuos is easily feasible.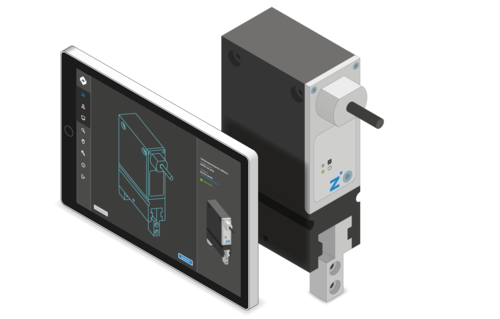 Digital twin of the component
Digital twin of the plant
Interview with our experts! What is digitalZ?
---
The Zimmer Group presents numerous new or optimised product finders for its various technology areas on its website.
ONE PRODUCT FINDER FOR ALL CASES!
---
The requirements for the drilling pattern of a multi-spindle head, the motor connection or the control of the drilling quills are often different. The Zimmer Group will work with you to develop a solution at the highest technical level.
INTERVIEW WITH OUR EXPERTS! We automate the woodworking industry!
---
EXPERT ROUNDTABLE - THE FUTURE OF ROBOTICS
---
DigitalZ with SPS-FB, SCM wired, Apps
SCM – Smart Communication Module
The Smart Communication Module (SCM) is a master gateway suitable for all Zimmer IO-Link components. The SCM can control two devices with its two channels and functionally offers the direct conversion of IO-Link to digital I/O. It thus makes it possible to integrate IO-Link devices into a digital infrastructure and to use their extended range of functions almost to the full extent. What is new now is the extension of the pure module to include robot-specific accessories. In addition to the familiar hardware and software, the components of these robot-specific SCM packages are the electrical connection to the controller and the so-called Comfort APP.

Comfort APP
The Comfort App, which is tailored to the robot manufacturer, enables the gripper to be controlled and operated conveniently and directly via the respective robot operating unit. The app provides all necessary commands for a smooth automatic mode. The setup mode and the automatic robot sequence are combined in one solution. In addition to a purchase in the robot-specific SCM set, our apps are also available for purchase individually

PLC modules
Function blocks and documentation are available for the various manufacturers for controlling a gripper directly via a PLC: The Zimmer Group offers these PLC function blocks (SPS FB) for free download as Additional Data Package (ADP) on its website.
INTERVIEW WITH OUR EXPERTS! Controlling and operating a gripper made easy
---

This is what we call the new multi-functional end-of-arm platform from Zimmer Group and Schmalz, two technology leaders and handling specialists. Equipped with an extensive range of functions and universal communication interfaces, MATCH is compatible with all common lightweight robots on the market – an ideal system for cobots and conventional 6-axis robots.
INTERVIEW WITH OUR EXPERTS! MATCH - END-OF-ARM-ECOSYSTEM
---
Energy elements for tool changers
INNOVATIONS AND OPTIMISATIONS FOR ENERGY ELEMENTS
The most important accessories for tool changers are energy elements, with which you can transfer a wide variety of media across the parting line. With the revision of our energy elements, the Zimmer Group has now both expanded and simplified its extensive product portfolio. For this purpose, the series have been restructured and some new products have been added to the range.

OPTIMISATIONS AND INNOVATIONS
NEW ADAPTER PLATES ENABLE UNIVERSAL USE
With the new adapter plates, you can use the WER1000 series in larger numbers and on many different tool changers. Another new feature is that the electrical energy elements in the new version with round connectors are now fitted with a sealing ring. In the coupled state, protection class IP54 is thus achieved, which opens up further application possibilities for you, even in harsher environments.

TRANSMISSION OF MANY SIGNALS WITHOUT ASSEMBLY EFFORT
To transmit signals, you previously had to choose between a small number of contacts with connector plugs, or a large number of contacts that you had to assemble yourself. Now elements with eight contacts (WER1000FSI08-00-B and WER1000LSI08-00-B) or twelve contacts (WER1000FSI12-00-B and WER1000LSI12-00-B) with common M12 connectors are available. By using the new adapter plates, you now have the option of transmitting a large number of signals without any assembly effort!

CODING OF UP TO 16 LOOSE PARTS
You can assign a number between 0 and 15 to the loose part via an integrated selector switch. This enables you to read out in the control system which lot part is currently in use. The system (WER3000LSI13-11-A) enables the coding of up to 16 different lot parts. The selector switch is secured with a Plexiglas pane to prevent unintentional manipulation after setting. In addition, 13 further signal contacts are freely available with this element. On the fixed part side, you can use the already available 19-pole signal element WER3000FSI19-00.
 
PROTECTION FROM DIRT AND MOISTURE
If a fixed part (energy element) is not in use in a fixed-part/loose-part combination (tool changer), the contacts are exposed. In order to protect the elements of the WER1000 and WER3000 series (with plug connectors) from dirt and moisture, we offer you the appropriate cover elements (WER1000LLN00-00-B or WER3000LLN00-00-A).

GROWTH IN PNEUMATICS
Two new pairs complete the product portfolio of pneumatic energy elements. The WER3000FPL04-06-A and WER3000LPL04-06-A elements have four connections with a G1/4" connection thread. For the small tool changers, the WER1000FPL04-12-B and WER1000LPL04-12-B elements are available, also with four connections - each with an M5 connection thread. This allows you to transfer many pneumatic lines in a small space.

CLASSIC WELDING POSSIBLE
The energy elements WER3000FLA01-00-A and WER3000LLA01-00-A enable classical welding by means of earth potential between any workpiece and the welding electrode. The element transmits currents of up to 140 A and is used on the earth or electrode side. It can be used for spot welding or also for seam welding.

GREATER TRANSPARENCY AND MODEL DIVERSITY
Tool changers are versatile. For this, the energy elements must also be usable in many applications. This makes this topic very complex. In order not to lose the overview here, much has already been simplified with the help of the new structure. In addition, the website has been revised in the area of energy elements to create more transparency. You can now find the energy elements on the website directly or indirectly via the tool changer. You can now pre-filter the medium and the desired tool changer to find the right product step by step. The new FAQ section, revised data sheets and new assembly and operating instructions provide you with further information.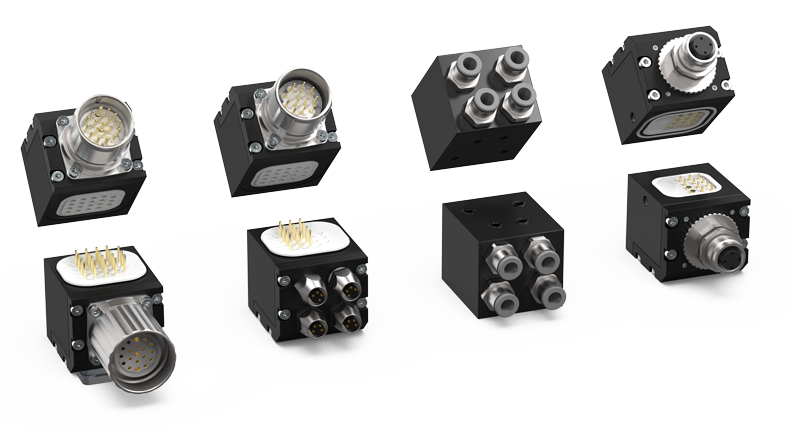 INTERVIEW WITH OUR EXPERTS! ENERGY ELEMENTS - MOST IMPORTANT ACCESSORIES FOR TOOL CHANGERS
---
(BCM-C/ BCM-F) for all IO-Link grippers
In robotics in particular, the last robot axis, the wrist as it were, lacks the appropriate electrical interface for intelligent grippers because this connection is often not available with a suitable cable in the robot arm. This problem is usually solved with external energy chains, but this results in some disadvantages, e.g. in the robot's freedom of movement. For this reason, the Zimmer Group has now released an intelligent robot flange that now transmits IO-Link wirelessly from the flange to the controller, so that only the energy supply is needed on the last axis of the robot. The information is transmitted bidirectionally via radio signal in practically the same quality as with wired transmission.
INTERFERENCE-FREE COMMUNICATION
With the new IO-Link bridge communication modules, the connection lines between gripper and controller can be significantly reduced, but the performance and functionality with regard to wired solutions remain unchanged. With the features already mentioned, the new bridge modules allow interference-free and safe communication with a wireless IO-Link master. Real-time latency times of 5 ms can be achieved for communication with up to 40 devices for maximum reliability and flexibility in production. The reliability is above a packet error rate (PER) of 10-9.
TWO VARIANTS BCM-F / BCM-B AVAILABLE
Two versions of the bridge module are currently available. One is the BCM-B - a model that is installed in a freely positionable industrial housing. This model can be used independently of the use of a robot. The other is the BCM-F: this module is directly integrated in the MATCH fixed part and can thus be used with all IO-Link loose parts of the end-of-arm ecosystem.
INTERFERENCE-FREE WIRELESS COMMUNICATION WITH YOUR ROBOT
---
Do you have any questions?