HUMAN-ROBOT-COLLABORATION
WHAT IS HUMAN-ROBOT-COLLABORATION?
The demographic development in industrial countries will lead to comprehensive changes in the working world in coming years. In the future, people will collaborate more and more with robots or have their work supported by robots. For this vision of a collaborative working world to become reality, however, we need more than just a new kind of safe robot with overload limiters, comprehensive sensors and fast-reacting control systems. The tool at the end of the robot also has to satisfy comprehensive requirements with respect to occupa-tional safety, work environment, use of equipment, approval and acceptance, etc.
The directives concerning specification of the safety-related requirements for robots, ISO 10218 and their technical specification ISO / TS 15066, currently describe the forms of collaboration. Even though these regulations are currently valid, they are being revisited by both DIN and CEN in the context of collaborative use of robots. That's why a product developed for this purpose should go beyond the current requirements. The HRC gripper series from Zimmer Group have been designed in accordance with recommendations from BG / DGUV (German occupational insurance association / German Social Accident Insurance).
read more
HRC FROM THE EXPERTS
As a pioneer and one of the world's leading manufacturers of HRC grippers, Zimmer Group develops components specifically for this work environment to reduce the physical load on the employees, mitigate against monotonous work steps, prevent accidents and increase the efficiency of workflows through human-robot collaboration.
EASY TO INTEGRATE
Naturally, however, not only the world's best HRC grippers are available for many robots, but also a comprehensive system module specially matched to your model. This provides a broad selection of grippers and handling components with corresponding accessories, so that you don't have to worry about compatibility and integration. Of course, this system module also includes HRC and Industrie 4.0 components that are compatible with your robot. These open up numerous advantages for you: easy to install, easy to configure, easy to operate, advanced diagnostics and preventive maintenance as well as the ability to make replacements while operation is in progress.
EASY TO HANDLE
The components are operated either using the central control system or, as is the case for most components, using the integrated control panel or via an app. The app offers users the maximum level of flexibility when creating, storing and restoring device parameters and also provides assistance during diagnostics/preventive maintenance. Furthermore, the HRC grippers and conventional grippers offer the user practical, pre-programmed movement profiles, which can be adjusted to the individual requirements of the gripping applica-tion with just a few mouse clicks. This ensures that complete implementation and commissioning are possible for any user within just a few minutes.
DIFFERENT FORMS OF INTERACTION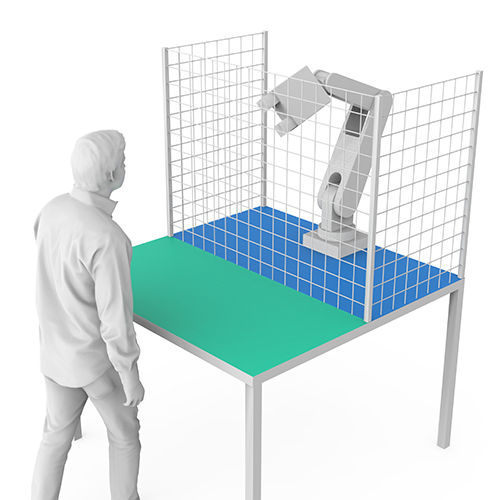 All gripping systems
can be used
Separated workspaces
Decoupled work
No contact necessary
Maximum speed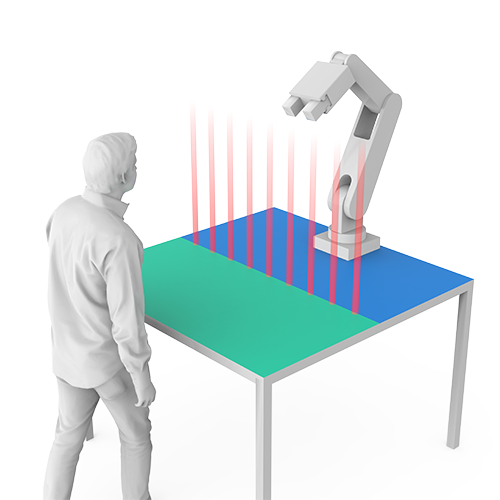 Detection of presence
Workpiece handling in a secure area
All gripping systems
can be used
Separated workspaces
Decoupled work
No contact necessary
Reduced speed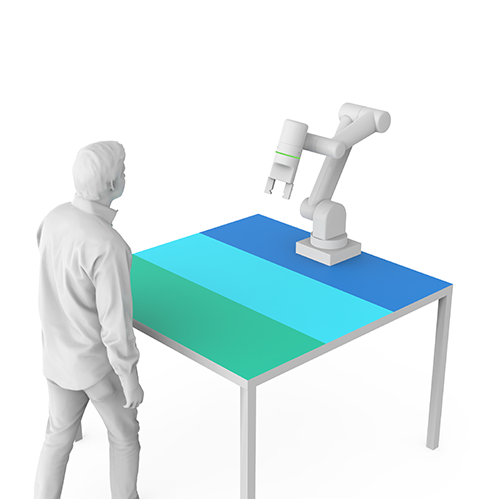 Gripper with special HRC geometry
Secure holding of the workpiece
even if the power supply fails
Shared workspaces
Coupled work
No contact necessary
Reduced speed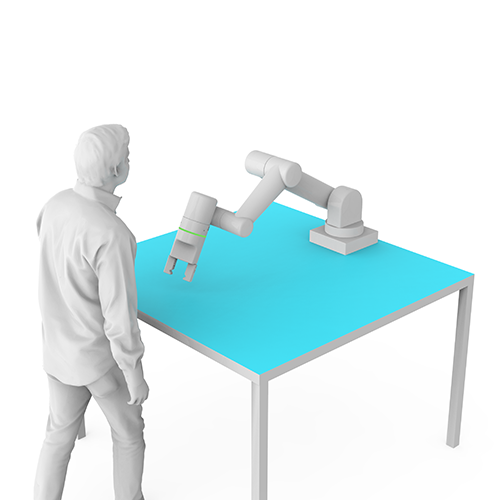 Shared workspaces
Workpiece handling in a unsecure area
Gripper with special
HRC geometry
and reliable gripping
force limiter
Gripping force limited
to a max.
of 140 N as per ISO / TS 15066
Secure holding of the
workpiece even if the
power supply fails
Coupled work
Contact is necessary
Reduced speed
| Product family | Order-No. | Suitable for robot type | Stroke per jaw [mm] | Gripping force max.[N] | HRC form | Communication |
| --- | --- | --- | --- | --- | --- | --- |
| HRC-01 | HRC-01-102270 | ISO-TK 50* | 40 | 500 | cooperative | |
| HRC-01 | HRC-01-102976 | Yaskawa HC10 | 40 | 500 | cooperative | |
| HRC-01 | HRC-01-101670 | ISO-TK 50* | 60 | 850 | cooperative | |
| HRC-01 | HRC-01-102975 | Yaskawa HC10 | 60 | 850 | cooperative | |
| Product family | Order-No. | Suitable for robot type | Stroke per jaw [mm] | Gripping force max.[N] | HRC form | Communication |
| --- | --- | --- | --- | --- | --- | --- |
| HRC-02 | HRC-02-093390 | ISO-TK 50* | 40 | 165 | collaborative | |
| HRC-02 | HRC-02-093677 | Yaskawa HC10 | 40 | 165 | collaborative | |
| HRC-02 | HRC-02-101487 | ISO-TK 50* | 60 | tbd | collaborative | |
| HRC-02 | HRC-02-101528 | Yaskawa HC10 | 60 | tbd | collaborative | |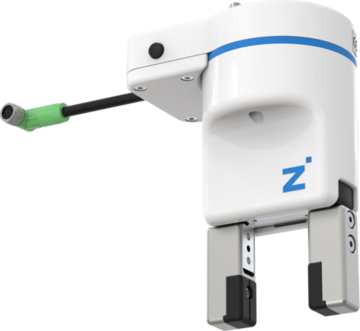 | Product family | Order-No. | Suitable for robot type | Stroke per jaw [mm] | Gripping force max.[N] | HRC form | Communication |
| --- | --- | --- | --- | --- | --- | --- |
| HRC-03 | HRC-03-072844 | ISO-TK 50* | 10 | 190 | collaborative | |
| HRC-03 | HRC-03-080663 | Yaskawa HC10 | 10 | 190 | collaborative | |
| HRC-03 | HRC-03-116787 | Fanuc CRX | 10 | 190 | collaborative | Digital IO |
| HRC-03 | HRC-03-117137 | Rethink Sawyer | 10 | 190 | collaborative | Digital IO |
| HRC-03 | HRC-03-086003 | UR e-Series and Hanwha HCR M8-8 Tool IO | 10 | 190 | collaborative | Digital IO |
| HRC-03 | HRC-03-094230 | Siasun SCR5 | 10 | 190 | collaborative | Digital IO |
| HRC-03 | HRC-03-096009 | Doosan | 10 | 190 | collaborative | Digital IO |
| HRC-03 | HRC-03-099507 | Hanwha HCR5/12 | 10 | 190 | collaborative | Digital IO |
| HRC-03 | HRC-03-099455 | Mitsubishi | 10 | 190 | collaborative | Digital IO |
| HRC-03 | HRC-03-100376 | Jaka | 10 | 190 | collaborative | Digital IO |
| HRC-03 | HRC-03-100688 | Aubo | 10 | 190 | collaborative | Digital IO |
| HRC-03 | HRC-03-101016 | TM | 10 | 190 | collaborative | Digital IO |
| Product family | Order-No. | Suitable for robot type | Stroke per jaw [mm] | Gripping force max.[N] | HRC form | Communication |
| --- | --- | --- | --- | --- | --- | --- |
| HRC-04 | HRC-04-072810 | ISO-TK 50* | 6 | 130 | collaborative | |
| HRC-04 | HRC-04-080644 | Yaskawa HC10 | 6 | 130 | collaborative | |
| Product family | Order-No. | Suitable for robot type | Stroke per jaw [mm] | Gripping force max.[N] | HRC form | Communication |
| --- | --- | --- | --- | --- | --- | --- |
| HRC-05 | HRC-05-072836 | ISO-TK 50* | 37,5° | 85 | collaborative | |
| HRC-05 | HRC-05-080659 | ISO-TK 50* | 37,5° | 85 | collaborative | |
*Mechanical assembly compatible to all robots with standard ISO PCD 50mm. Electrical connection via standard IO-Link M12-5 female connector