HRC for Universal Robots
HUMAN, ROBOT!
Human-robot collaboration opens up new possibilities for efficient, flexible and optimized production. Conflicting market requirements, such as increased depth of customization, have to be taken into account amid shortening product lifecycles. Cooperation and collaboration between humans and robots can create far-reaching potential
under these circumstances. Both resources are making optimal use of their unique possibilities, creating new jobs for the future as a result. Zimmer grippers form the link between the workpiece and the robot here.
Of course, for Universal Robots, Zimmer offers more than just one of the world's top HRC grippers. The company also provides a comprehensive system module that has been specially adapted to your model. This module provides a broad selection of grippers and handling components with the necessary accessories, so that you don't have to worry about compatibility and integration.
Of course, this system module also includes HRC and Industrie 4.0 components that are compatible with your robot. These open up numerous advantages for you: easy to install, easy to configure, easy to operate, advanced diagnostics and preventive maintenance as well as the ability to make replacements while operation is in progress.
HMI – HUMAN MACHINE INTERFACE
SIMPLE OPERATION
Operating Industrie 4.0 components from Zimmer Group is just as easy and flexible as installing them. What originally applied primarily to industrial control systems is now also available for robots. In doing so, operation is integrated completely into the robot control system. As a result, Zimmer Group components can now be configured manually using the robot control panel directly and integrated into the robot program sequence. An external PLC control system is not required to do this. In this design, the Universal Robots specialists used the Zimmer HMI they were familiar with as the basis for giving the user a standardized and intuitive user interface. The user can control the entire IO-Link gripper portfolio from Zimmer Group using this complete tailor-made system and can use pneumatic, electrical, servo-electric and digital Zimmer Group components with the innovative robots from Universal Robots.
HMI CONFIGURATION PACKAGE
MAXIMUM PERFORMANCE INCLUDED
The combination of Zimmer Group components, the Zimmer Easy-to-Use Package and UR robots ensure the easiest integration as well as intuitive operation. Maximum performance included!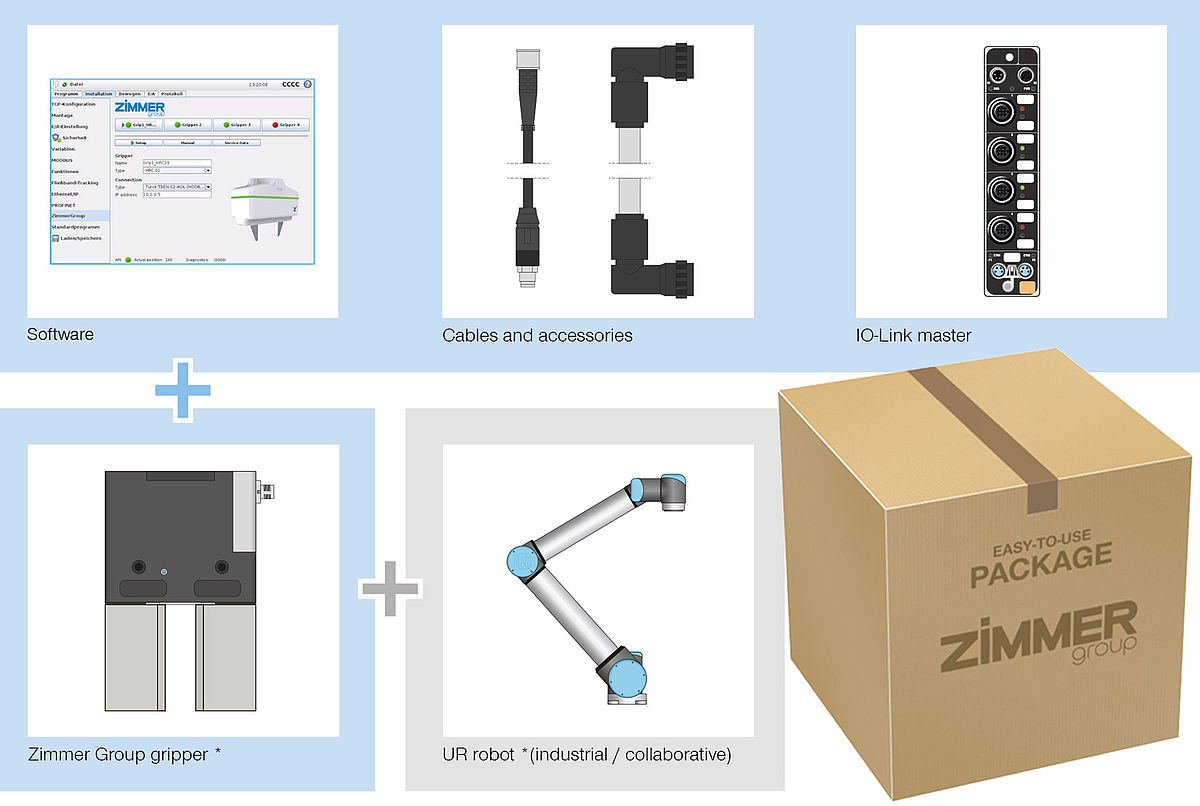 1 The Easy-to-Use Package is required once per robot and enables the operation of up to 4 different IO-Link grippers.
2 The power adapter provides 10 A (15 A peak). Please observe the current draw of the respective gripper series.
3 These additions are needed each for one gripper. The energy chains are optional here.
4 The following hose outer diameter is recommended: GPD/GPP5006: 4 mm / GPD/GPP5008: 4 mm / GPD/GPP5010: 6 mm
CONVENTIONAL COMPONENTS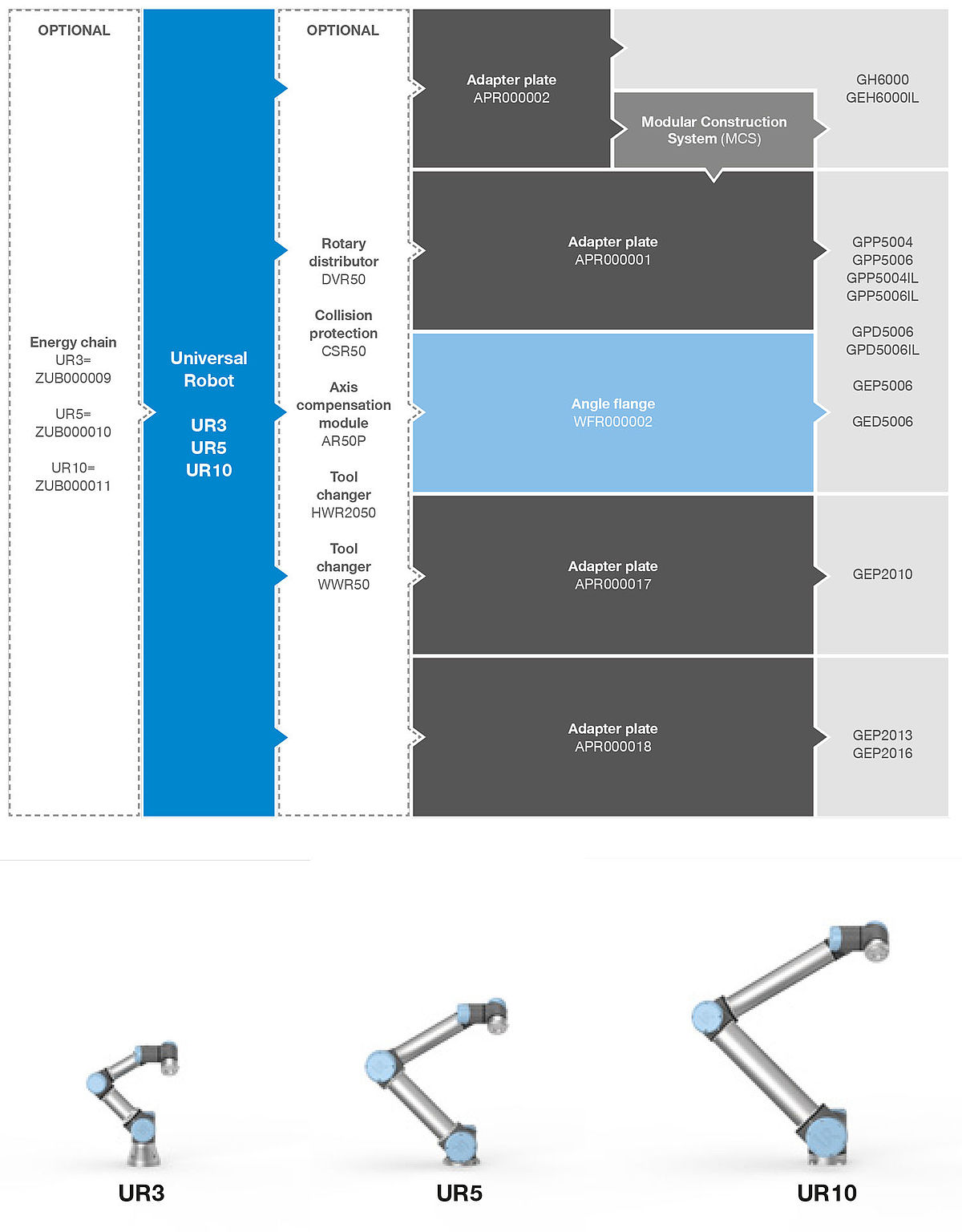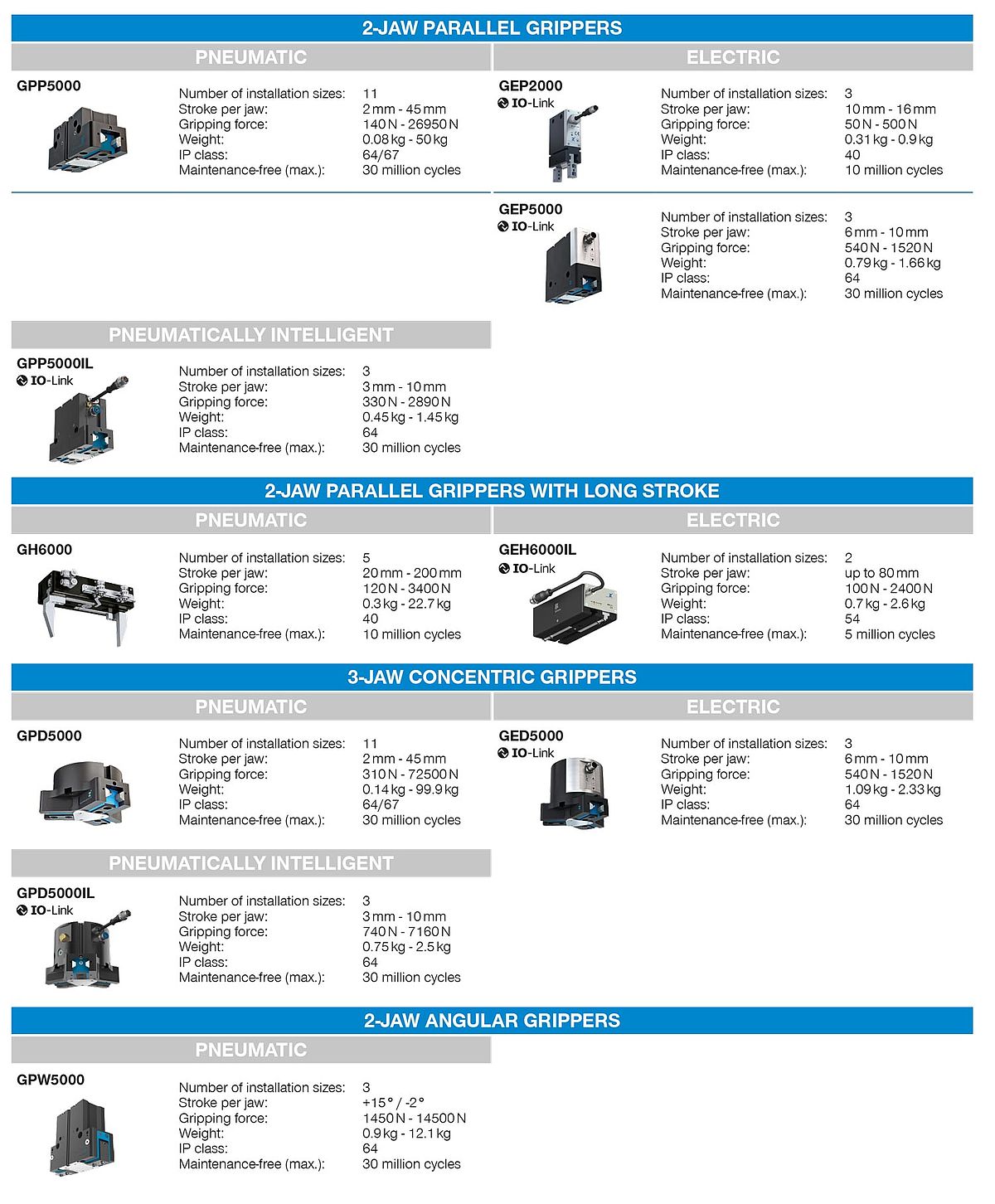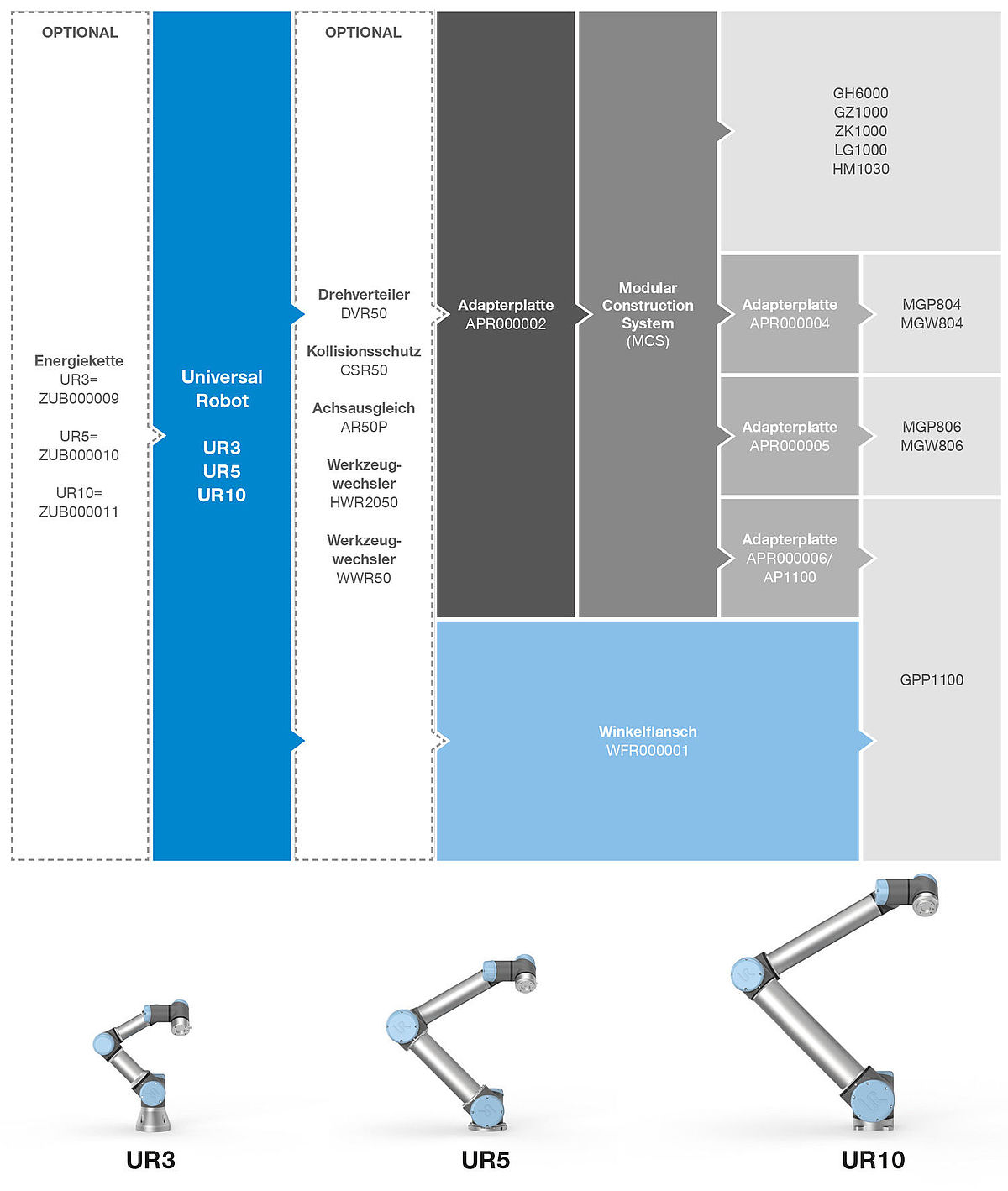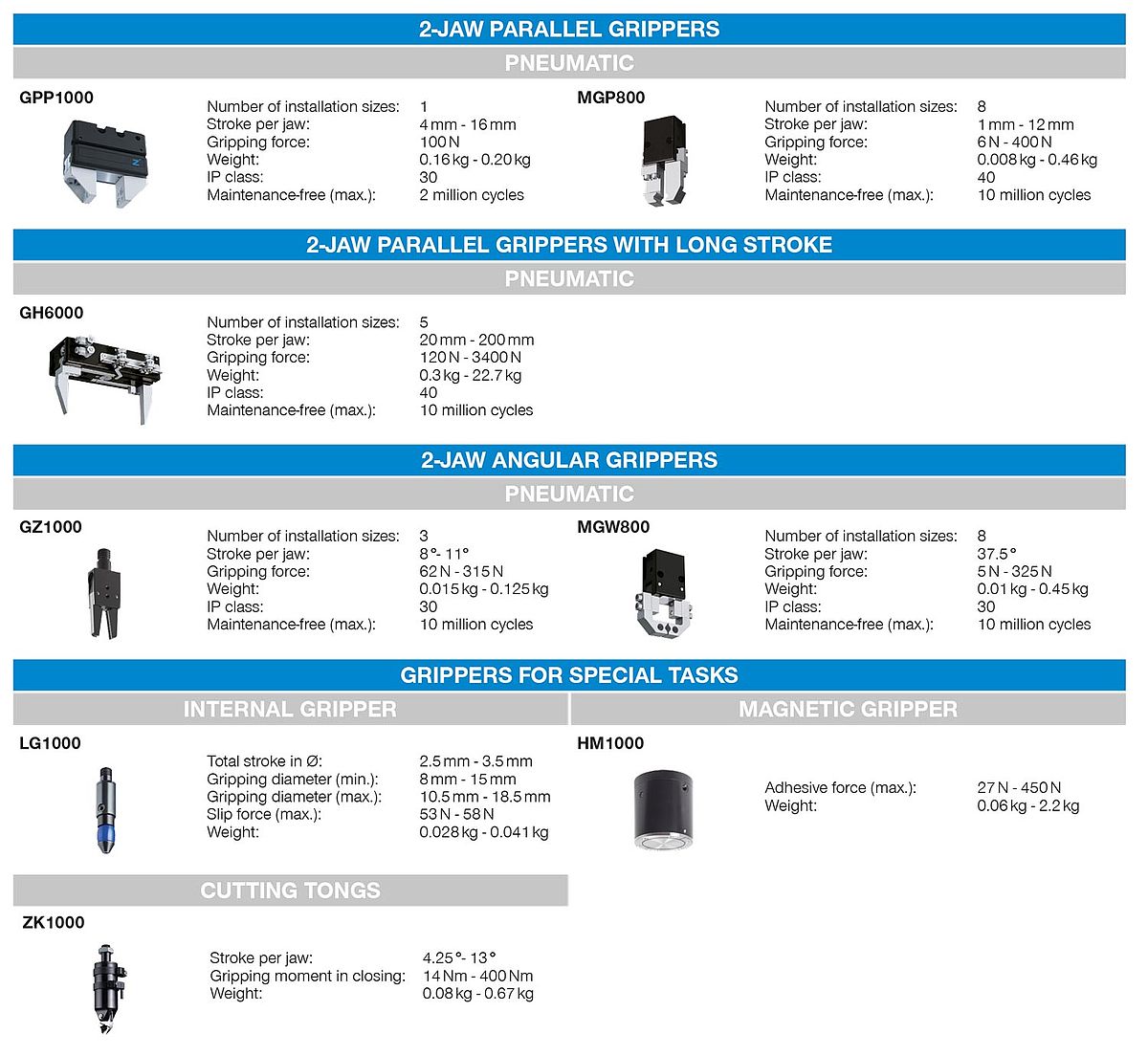 MCS – MODULAR CONSTRUCTION SYSTEM
The modular construction system (MCS) can be used to create a workpiece-specifi c solution without increased engineering efforts. This is made possible by the harmonized individual components. The product portfolio includes profi les, compensation modules, suction cup mounts as well as gripper fi ngers that guarantee a secure grip on the workpiece during motion. For a complete overview of all the MCS components, refer to our "Handling technology 3"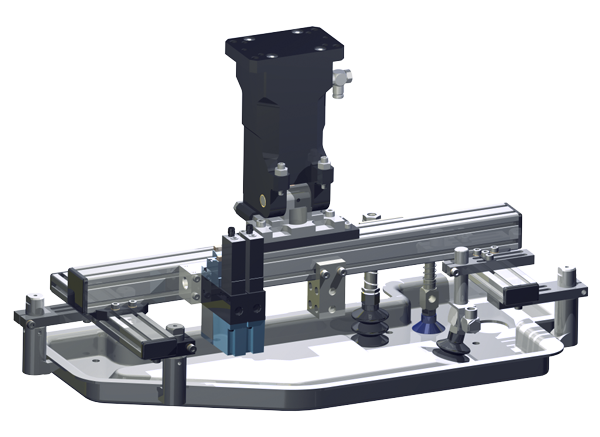 ---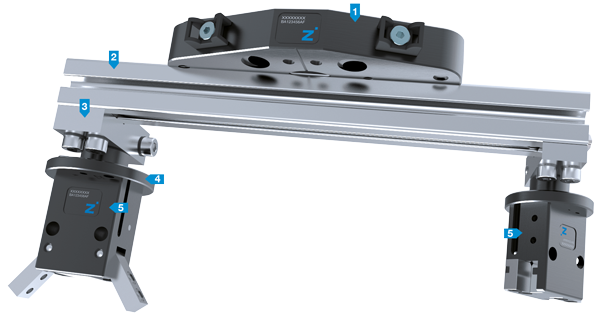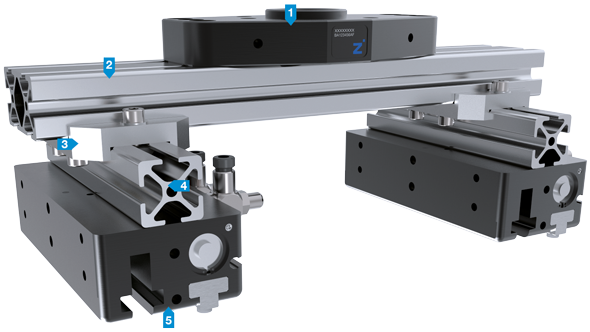 CONNECTION EXAMPLE

MGP800 and MGW800 SERIES
UR ROBOTS UR3 / UR5 / UR10

1 Adapter plate APR000002

2 MCS Profile*

3 MCS Clamp SO-23120022*

4 Adapter plate APR000004/APR000005

5 Series MGP800 and MGW800

* See the Handling technology 3 catalog


CONNECTION EXAMPLE

GEH6000IL/GH6000 SERIES
UR ROBOTS UR3 / UR5 / UR10

1 Adapter plate APR000002

2 MCS Profile*

3 MCS Cross clamp*

4 MCS Profile*

5 Series GEH6000IL/GH6000

* See the Handling technology 3 catalog