Our extensive product range enables us to map the handling of all areas of the power train, for example, camshafts and crankshafts, cylinder blocks and heads, gear and chassis parts, as well as tires, wheels and rims. The production of electric vehicles imposes new requirements on production technology. Producing battery cells and packages economically is an important factor in ensuring that this market can grow successfully. For this purpose, a high degree of automation—as it already exists today in motor production—is absolutely critical. The competition for the best production technology has been underway for a long time. Zimmer Group is a development and system partner to many major-name premium manufacturers in battery production, module assembly and electric motor production.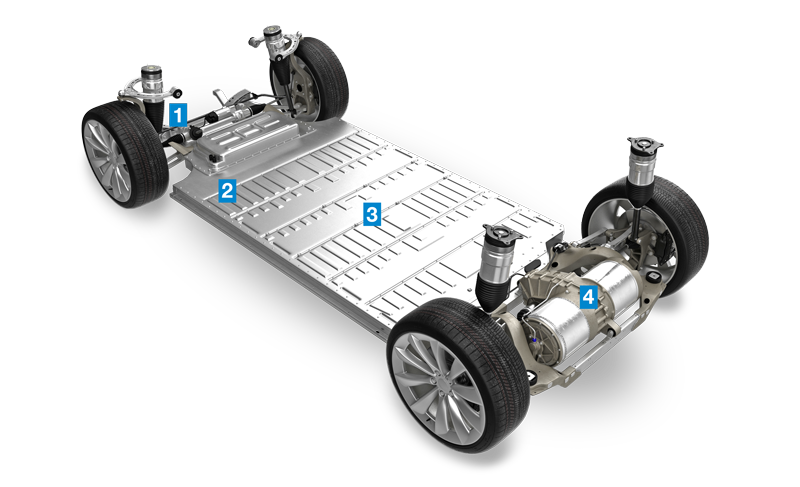 1 Steering gear assembly 2 Battery module assembly
3 Battery pack assembly 4 Rotor assembly / stator assembly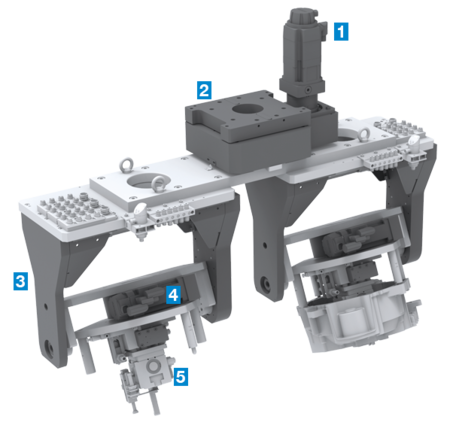 LOADING GRIPPER FOR HOUSING PARTS
1 Servo motorized C-axis 2 Connection flange
3 Servo motorized A-axis 4 Servo motorized B-axis
5 Large stroke gripper GHK6460
---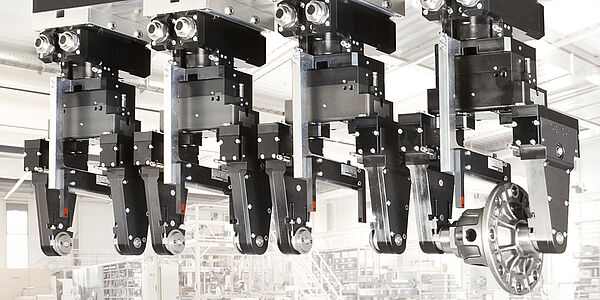 Nearly all well-known automobile manufacturers and their suppliers and system integrators already trust Zimmer Group gripping systems to handle their powertrain components and drivetrain components safely. Many of these earlier "special grippers" have now become standard EOAT solutions. Visit our system showroom to find an overview with many more application examples.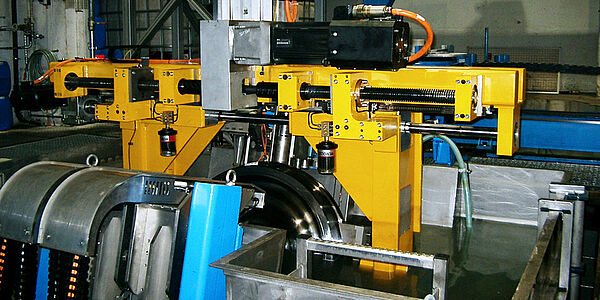 Zimmer Group's handling solutions are in demand not only in the automotive industry, but also in the railroad and railway engineering sector. The scope and size of the components present manufacturers with very difficult handling challenges not seen in other industries, though. Visit our system showroom to learn more about our special gripper systems for railway vehicles.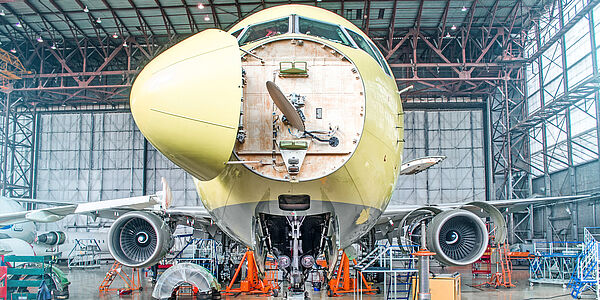 Alongside the extremely strict quality and safety standards for the production and maintenance of aircraft, precision in the machining, processing and assembly of components also plays an important role. For example, flexible systems from Zimmer Group already help with the automatic, precision setting of rivets and fully automated X-rays of aircraft rims. With high quality standards and an extensive range of certifications, Zimmer Group is exactly the right partner for your special requirements. Please contact us!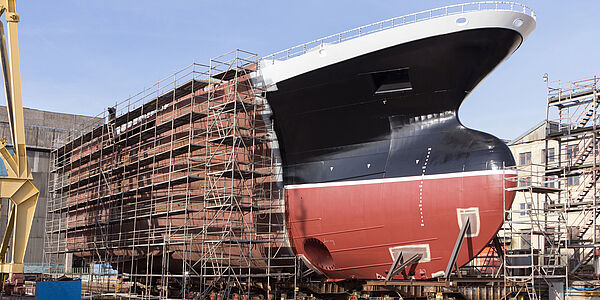 At first glance, the relatively small batch sizes in the shipbuilding industry seem to make process automation an unattractive method. Many methods from the automotive industry are nevertheless used today to optimize production and save costs. For example, handling the extremely heavy components manually would not be possible anyway. This is where special handling systems from Zimmer Group can literally get a grip on things, helping to place these engine parts that weigh several tons into processing machines. Are you looking for a customized system solution for shipbuilding? We look forward to hearing from you!
---
As one of the world's leading automation solution experts, we support you with our experience and expertise. Whatever your industry or production environment, we have what you need and are your partner for success. Here is an overview of the extensive range of Zimmer Group industry standards and reference systems.