Exactly the right system for your production
The modular zero-point clamping system from Zimmer Group gives you the right system for every requirement.
In addition to a standard version reduced to the basic functions, which fulfills essential operations such as unlocking and a PLUS connection, there is also an advanced version with an extensive range of functions that are necessary for automated production, for example. Both variants feature positive locking via clamping segments that are specially adapted to the pin contour. This creates an extremely rigid system that can absorb the highest forces with maximum repeat accuracy. The product range is extended by many different types of clamping plates, available in every size and various configurations. To increase the protection of the particular zero-point clamping system and to prevent any intrusion of dirt, there is an optional automatic seal that reliably protects the pin opening.
---
By automating processes the zero point clamping system dramatically increases productivity of processes that required precision. Machine set-up times are reduced by up to 90%, and cleaning and maintenance of the system is minimal. The option to link processes, one after the other, in a single workpiece clamping system, in various machining cells and equipped with identical clamping system geometries, allows previously unrealized synergies. The workpiece carrier with the zero point clamping system accompanies the workpiece all the way through the production process, thus ensuring the ultimate in precision and cost efficiency.

Maximum repeatability and precision
The zero-point clamping system features a repeatability of 0.005 mm thanks to its sophisticated design. Thanks to its very high clamping forces and consistent use of tempered stainless steel, the system provides a high-precision, torsion-resistant base and also stabilizes parts that tend to vibrate.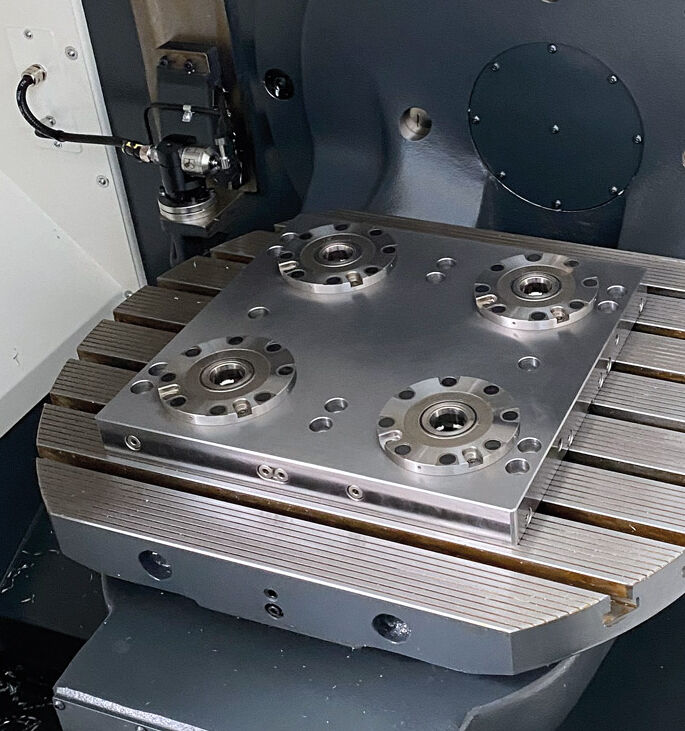 Increased process reliability
The zero-point clamping system reduces errors during milling, rotating, wire or die eroding, flat or cylindrical grinding, drilling, lasering and measuring. The maintenance-free design also contributes to the superior process reliability.
---
SPN ADVANCED SERIES – THE SUPERIOR
The zero-point clamping system of Zimmer Group's Advanced series provides a number of functions that are one-ofa-kind in this form and composition. Functions such as the PLUS connection, positioning check and pneumatic piston position sensing are integrated as standard, as well as air discharge of the pin opening and contact surface cleaning.
SPN STANDARD SERIES – THE ECONOMICAL
Zimmer Group's standard zero-point clamping system is reduced to the essentials, with functions such as unlocking and a PLUS connection as well as the two torque reaction devices. Even this economical zero-point clamping system also uses the well-proven positive locking system by means of clamping segments.
Series SPN Clamping plates
---