SOLUTIONS FOR THE CAPITAL GOODS INDUSTRY
The mechanical engineering sector is subject to massive competitive pressure around the world. For 30 years now, we at Zimmer Group have been applying our technical expertise and many years of experience on behalf of our customers in the area of automation and mechanical and systems engineering. We provide innovative solutions and deliver the unique features that are required. Our performance spectrum includes everything from the individual component to the mechatronic function group or even the complete robot-based machining or assembly cell. The use of industrial robots represents a crucial productivity factor in the automotive industry. Zimmer Group offers innovative end-of-arm products optimized for the application for the increasing use of robot technology in other industries (mechanical engineering, electronics, foundry engineering, textiles, etc.). Our intelligent solutions for end-of-arm tooling make crucial contributions to increases in productivity (e.g. multi-function drill head, fitting unit). Especially in the age of digitalization, our mechatronic solutions and the complete range of accompanying digital services open up outstanding opportunities for differentiation. Based on a virtual depiction, the digital twin, we design and implement complete production and assembly cells that feature maximum flexibility. The basis for these innovative machine concepts is a highly flexible, scalable transport module for workpiece transport. Individual transport units (shuttles) that can be controlled independently eliminate the need for a fixed coupling of the transport by a continuous conveyor belt. Depending on the requirement, this makes it possible to set up an extremely agile and highly dynamic transport circulation. There are no limits on its length and it can have any number of shuttles.
---
Zimmer Group has been one of the most innovative companies in the woodworking industry for over 25 years. For example, a robotic cell recently introduced by the company to process furniture parts was granted the German Innovation Award. Alongside the cell's many standard Zimmer components, its digital twin ensures flexible engineering. It also features newly developed components, such as a shuttle transport system that moves the workpieces very flexibly from one processing station to the next. Look here to find more about our solutions for the woodworking industry.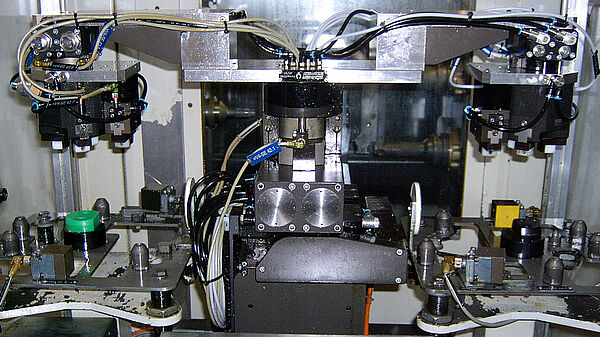 Whether for turning, grinding, milling, honing or some other machining process, automation gained a foothold here early on and Zimmer Group has been involved from the very beginning. While there were still many "externally mounted" solutions in the early years, these are now being integrated directly into the machine concept and design more and more frequently. We offer space-saving automation solutions on robots, on machines or even directly in the work area. It goes without saying that our components guarantee perfect protection against chips and cooling lubricants. This is how we provide you with technical systems that perform at the highest level, even in difficult operating conditions. Find out more in our system showroom.
---
As one of the world's leading automation solution experts, we support you with our experience and expertise. Whatever your industry or production environment, we have what you need and are your partner for success. Here is an overview of the extensive range of Zimmer Group industry standards and reference systems.