Shortened changeover process
In modern production processes, factors such as efficiency and flexibility play an increasingly important role. For injection moulding companies, this demand for flexibility means there is a constant challenge posed by increasingly smaller lot sizes, the desire to achieve lower inventories and just-in-time deliveries.
Short machine downtimes thanks to a significantly shortened changeover process
Time savings of approx. 15 - 25 minutes compared to conventional clamping
Changeover process carried out by a single person, even for large moulds
A more cost-effective solution in comparison to the competition
No maintenance costs
Complete machine plate can be utilized
No thermal insulation panels or centering rings on the mould are required
High precision during mould exchange provides advantages for automated handling tasks
Low height of the changing device of 30 mm or 36 mm with thermal insulation panel
Can be used for all machine types
High stability, high loading capacity and low wear
High mould temperatures in comparison to other systems
Mechanically reliable
Customization of the drilled fastening holes to match the existing machine plate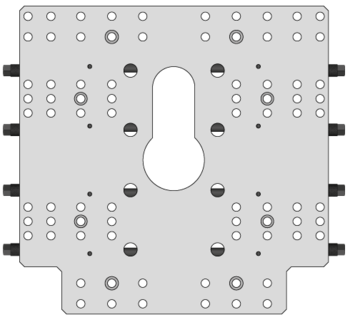 Changeover In just a few minutes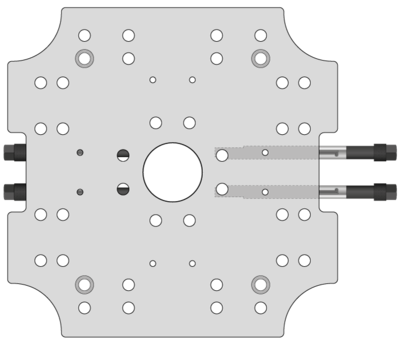 No additional tools required
With the Zimmer Group quick clamping system, the setup person only needs a single wrench for changeover. No additional tools such as clamps, screws, etc. are necessary and therefore these small parts will also not get lost during live operation. Due to the sophisticated system, setup only requires a few manual steps that can be carried out by one person. A further benefit of the quick clamping system is that no centering ring or similar is necessary, as centering is performed by the clamping pins in the mould. This means that searching for small parts is also unnecessary here.
CLAMPING WITHOUT A CLAMPING SYSTEM
It is very common to use a wide variety of tools such as screws, clamps, washers, etc. when changing or clamping injection moulds. As a result, conventional changeover usually involves searching for clamps and screws and other tools.
Even the clamping situation is subject to change. Depending on the circumstances, the worker may have to reconfigure the clamping situation for each mould. Another disadvantage of conventional clamping is that the machine plate cannot be fully utilized and when large moulds are being used, two people may be required to clamp them.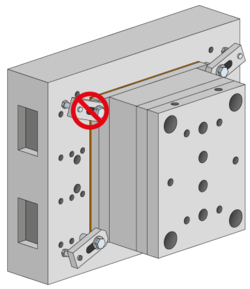 MINIMAL MACHINE SET-UP TIME MAXIMUM PRODUCTIVITY
2 ready-to-mount quick clamping plates with mounted clamping eccentric
1 adapter for centering on the injection moulding machine
1 system key
Screws for fastening the quick clamping plates to the injection moulding machine