Individual driverless transport systems for your production and logistics processes
MILES - Autonomous Mobile Robot
Rely on Autonomous Mobile Robots (AMR) and bring dynamics into your material and warehouse management. The AMRs move autonomously in a defined area and support you in automating your intralogistics processes: from the transport of different goods such as pallets, material containers or small parts to the automatic pick-up and delivery of load carriers and fully automated fleet management including connection to your ERP system. Take advantage of an efficient and intelligent material flow solution with the flexible, modular AMRs Miles from the Zimmer Group!
A coordinated overall system of hardware, software and service
Customized concepts and superstructures
Omnidirectional drive for maneuverability in tight spaces
Long battery life and intelligent battery management
Software for smart navigation and fleet management
ATTUNED TO YOUR REQUIREMENTS
Complete system consisting of hardware, software and service
Easy integration into your processes
Highest safety standards for man and machine
Advice on customized AMR superstructure solutions
Individual concept based on plant layout
FLEXIBLE ON EIGHT WHEELS
Omnidirectional drive: turning in tight spaces possible
Natural Navigation: autonomous navigation through recognition and mapping of the environment
Up to 6 km/h travel speed
Up to 2,000 kg payload
24/7 IN ACTION
Long-life Li-ion battery with 48V on-board voltage
Contactless and wear-free inductive charging technology
Fast charging times allow maximum flexibility of use
Unlimited use day and night
Comprehensive software and service concept
With the Zimmer Group AMR, you get a complete software package for navigating your transport system. Efficient route planning and fleet management are child's play thanks to swarm intelligence and simple teach-in and copy functions via a user-friendly user interface.
In addition, we offer you the connection to your control technology and ERP system with suitable interfaces (VDA 5050). The integrated diagnostic system enables you to plan ahead and thus ensure high availability. Raise your Kanban processes to a new level and control a safe and intelligent fleet management with the right software.
NAVIGATE SAFELY
At Miles, the focus is on safety. People scanners provide a safe environment for people and machines. Used in drive and load direction, the scanners detect obstacles precisely, with foresight and in real time, and ensure automatic speed adjustment up to an immediate stop to avoid possible collisions. Even in curves. Laser reflectors enable high-precision positioning and thus collaborative working.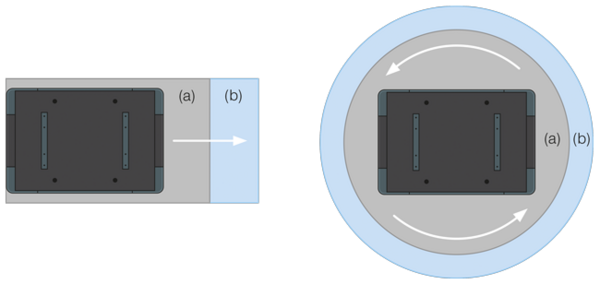 Safety areas when driving and turning the vehicle
a) = Stop motion
b) = Reduce speed
YOUR SOLUTION FOR AUTOMATED TRANSPORT
Flexible automation solutions are needed to meet the different requirements in intralogistics.
We support you with modular AMR set-up options and address the individual needs of your company.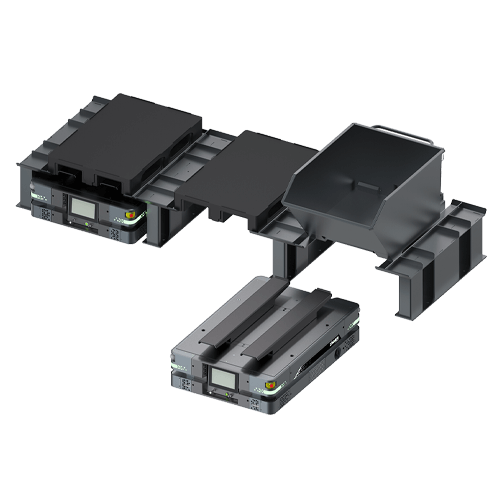 AMR WITH LIFTING UNIT
Zimmer Groups AMRs with lifting unit offer a wide range of solutions for almost any challenge in your warehouse. The parts to be transported are flexibly adaptable. Despite its small size and compactness, this universally applicable system, equipped with a stroke of 50 mm, can transport loads of up to 2000 kg.
Possible applications:
Transport of (Euro) pallets, off-cut, trolleys, picking trolleys and many more.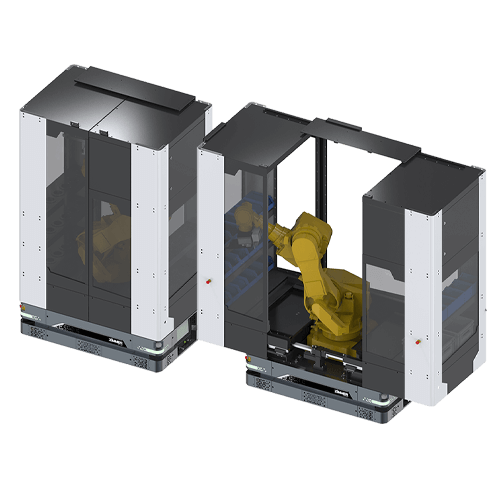 AMR WITH ROBOTIC MODULE
Compact design, maximum availability: Combine your AMR with a robot (up to 50kg handling weight) and get maximum flexibility with the modular rack concept for different workpieces. Optional automatic safety fence and battery pack for longer run times are available.

Possible applications:
Handling and transport of Kanban containers and more.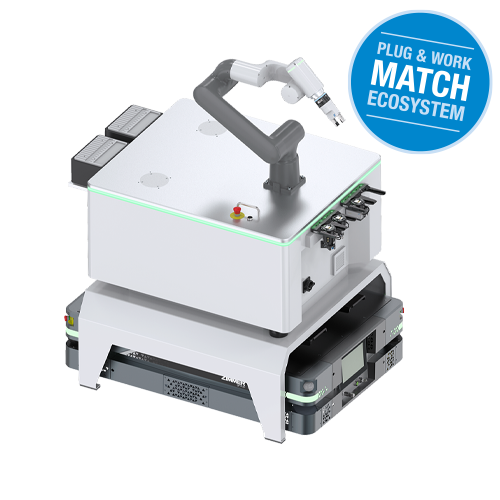 AMR WITH ZIMO
In this setup, the AMR takes over the pickup, transport and positioning of the ZiMo flexible robot cell. The AMR then takes over other tasks such as pallet transport. Thanks to its modular design and a power supply from batteries, the ZiMo can be used in a variety of ways.

Possible applications:
Parts removal, assembly work, quality control, and many more.
STEP BY STEP TO THE AUTOMATED WAREHOUSE
ANALYSIS AND PLANNING
Together with you, we look at your needs and develop a custom-fit solution for your requirement.
IMPLEMENTATION
From simulation and integration into your ERP system to go-live, we accompany you as a development partner during implementation.
SUPPORT
After successful implementation, we continue to assist you with subject matter expertise, technical support, software updates and maintenance.
FAQ - FREQUENTLY ASKED QUESTIONS
What's the difference between AMRs and AGVs?
AGVs (Automated Guided Vehicle) and AMRs (Autonomous Mobile Robot) are both used to automate industrial transport and logistics processes. AGVs are driverless vehicles that usually move along predefined paths or tracks. They follow predetermined paths or markings on the ground with the help of sensors, magnets or other guidance systems. AMRs, on the other hand, are autonomous robots that can move in dynamic and unstructured environments. Intelligent navigation systems enable AMRs to orient themselves in their environment in real time and avoid obstacles. They can perform different tasks in different environments, making them more versatile. Major structural adjustments are not required for the use of AMRs thanks to their flexibility.
What are the benefits of AMRs?
AMRs offer a variety of benefits that make them an attractive solution for different industries:
Flexible use: AMRs are extremely flexible and adaptable. They can be easily deployed in a variety of environments, whether in manufacturing, warehouses or healthcare. Their navigational capability allows them to move in dynamic environments without fixed paths.
Rigid transport equipment is not required: Unlike conventional conveyor belts or permanently anchored robots, AMRs do not require any fixed infrastructure. This means they can be easily integrated into existing work environments without the need for expensive conversions or adaptations.
Fast payback: Because they are efficient and productive, companies can recoup investment costs in a relatively short time through productivity and efficiency gains.
Different levels of automation can be implemented: AMRs can be scaled to different levels of automation. Companies can easily integrate them into existing workflows and expand them as needed. This enables step-by-step automation that meets a company's individual requirements.
Small footprint: Since AMRs do not require fixed transport routes and can move in confined spaces, they require little space. This is particularly advantageous in environments with limited space, such as warehouses or production facilities.
What's the best way to use AMRs?
The applications of Zimmer Group AMRs are versatile thanks to their flexibility and modularity. In doing so, they can take on a wide range of tasks in different industries (logistics, e-commerce, manufacturing, agriculture, healthcare, airports, etc.):
Material handling: AMRs efficiently transport goods and materials between different locations.
Shelf replenishment: Automatically replenish shelves to optimize inventory management.
Inspection: AMRs inspect products and equipment for quality control or maintenance needs.
Warehouse management: you organize storage locations and track inventories in real time.
Delivery: AMRs deliver packages and orders in warehouses or retail environments.
Document transport: You transport important documents in offices or facilities.
Monitoring: AMRs monitor environments for safety or quality purposes.
Is the investment in a driverless transport system worthwhile?
AMRs make a significant contribution to efficient processes, ensure higher capacity utilization of your plants and thus lead to lower production costs with maximum output at the same time. This ensures a rapid return on investment. Which scope and model is right for you depends largely on your requirements and environmental parameters. We will be happy to help you find the right package - contact us today!
What voltage is available for the setup?
The batteries supply 48 volts. But we can also provide 12 and 24 volts for control components. For the robot there is an inverter for 230 volts or also 400 volts.
We will be happy to advise you - Contact us now!