LOGISTICS The future of logistics is now
The Zimmer Group System Technology product range is just as varied as the challenges. It ranges from system integration for conveying and storage systems, (de)palletization systems to combined individualized software and hardware solutions for easy integration into existing or planned logistics infrastructures. This guarantees optimal and trouble-free material flow. For every company, wherever it is in the world, perfection in logistics will be what sets it apart for long-term market success. Zimmer Group is one of the world's leading system suppliers. For a few years now, we have been using the digital twin, an application-specific AI and other digital services. We do so during commissioning and during the production process. Upon request, a custom, system-specific HMI is also possible. We are the technological leaders so that tomorrow, we will still be the partner of choice for your Digital Warehouse and Digital Logistics needs.
---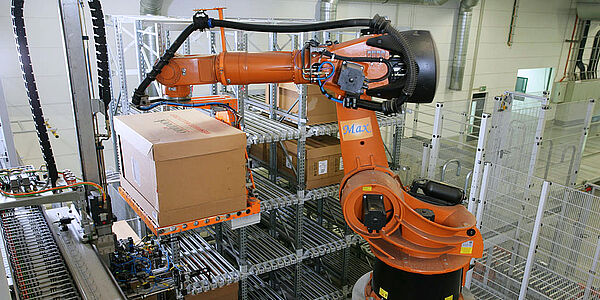 Nowadays, logistics processes are running faster and faster. Many companies are therefore thinking about automating individual processes or even several ones. Take a look at our system showroom now to discover a wide variety of application examples. You will find everything from palletizing and depalletizing technology to combined customized hardware and software solutions for easy integration into existing or planned logistics infrastructures.
---
As one of the world's leading automation solution experts, we support you with our experience and expertise. Whatever your industry or production environment, we have what you need and are your partner for success. Here is an overview of the extensive range of Zimmer Group industry standards and reference systems.