Plastic injection molding
The special kind
We are in our element when the task involves complicated plastic injection molding. It enables us to demonstrate our full range of capabilities through the close interaction of development, design, moldmaking, injection molding production and assembly.
Apart from PVC, we process all typical plastics, such as semi-crystalline thermoplastics like POM, PE, PP, PA, PBT and PET as well as amorphous thermoplastics like ABS, PC, PEEK, PMMA, PS and SAN along with all common blends.
Just like in terms of elastomers, we also offer all of the technically feasible variations here as well, such as modifying the hardness grades and coloration or using special blends with specific improvements to chemical, mechanical or thermal properties. Laser-writable surfaces or increased UV protection for outdoor applications in the construction industry are no problem at all for us and we even produce wood/plastic composites (WPC) blends for the furniture industry with a 70% portion of wood fibers. Contact us; we are the specialists for your specialty! This also applies to high-performance plastics such as PEEK with or without fillers such as glass fibers or glass beads.
Our injection molding production is also state-of-the-art in every regard: For instance, we have a fully automated material infeed, which feeds raw pellets from a centralized storage
location with integrated drying equipment to the injection molding machines via our conveyor's piping system. This lets us ensure cost-effective production with short response times that you can depend on at all times.
Naturally, we are also at home handling insert parts like threaded inserts, springs and any other parts made of plastic or metal.
We can also machine metallic insert parts as needed; in addition, the insert parts can be handled and the finished parts can be removed using full automation depending on the order volume. We accomplish this using equipment such as robots and handling portals equipped with handling components from Sommer-automatic, the automation specialists within the Zimmer Group. These kinds of automation solutions allow us to reduce costs and ensure that you can put competitive products on the market!
Our product and service portfolio is just as varied as our customer structure. Among our customers you will find companies from almost every industry, from medical technology, mechanical engineering and vehicle manufacturing to the cosmetics and watchmaking industries to construction, electrical engineering and the air and space industry -- a plethora of expertise for you to utilize!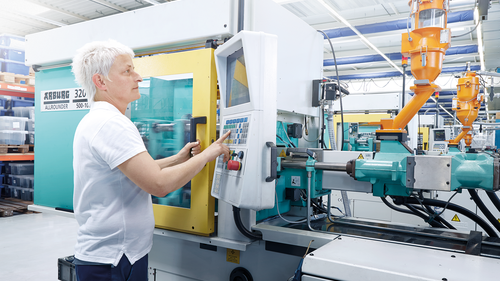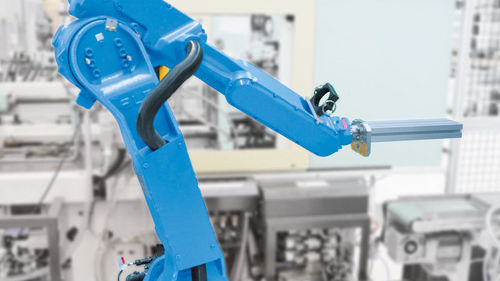 Automated production in plastic injection molding
At ZIMMER, the series production of plastic components is fully automated, including the removal and storage of tools. This enables us to achieve maximum process optimization for all large production series, which is reflected in the results of our integrated quality control.
Materials
Semi-crystalline thermoplastics such as POM, PE, PP, PA, PBT, and PET, amorphous thermoplastics such as ABS, PC, PMMA, PS, SAN, and PEEK
Advantages of plastic injection molding at ZIMMER:
Series production of complex plastic components
Range of materials: all typical plastics including fiber and particle-reinforced plastics
Development and advice on process technology geometry optimization
Modification of hardness grades and coloration
Processing special blends to improve the chemical, mechanical, or thermal properties
Production of hybrid parts, for example by injection molding around insert parts
Installation, assembly, and functionality testing
Request form
Plastic injection molding
Times for offer - market requirements
Plastic parts - within 3 working days*
MIM parts - within 3 working days*
Injection moulding tools (plastic/MIM) - within 3 working days*
Tool changes - within 3 working days*
Services (milling, turning, eroding) - within 3 working days*
*Prerequisite: Component design is completed or released.