Pharmaceutical industry
FROM NUMEROUS STANDARD VARIANTS TO THE INDIVIDUAL SOLUTION
Pharmaceutical industry, laboratory automation, medical technology
Zimmer Group stands at the forefront of globally leading manufacturers of components for automation, machines and furniture damping as well as process technology. Furthermore, with our individual solutions, Zimmer Group is an important partner of numerous well-known companies in the medical and pharmaceutical sectors. Since 1980, Zimmer Group has stood for high innovative strength – "Made in Germany." With leading technological products and a sales network in 125 countries, we support the growth of our customers with long-lasting contributions.

EACH SECTOR HAS ITS OWN REQUIREMENTS
Many industries and sectors have a number of special requirements and a high standard for components. Medical and pharmaceutical technology has unequaled standards for quality, durability and safety. Even today, many standard products from all of our technology areas are capable of mastering many of these challenges.
Cleaning/sterilization
Our hygienic design makes our products very easy to clean.
Resistant surfaces
We guarantee resistance to aggressive cleaning agents (hydrogen peroxide/H202 and many others).
IP protection class
We make it easy to keep dirt and grime away. Our specially sealed products allow intensive cleaning.
Clean room
We comply with the limit values and ensure reduced particle emissions in accordance with GMP and ISO 14644.
Certified lubricants
Our solutions comply with the requirements of FDA regulation 21 CFR 178.3570.
Various materials
We use only approved materials included in the FDA material list.

Any workpiece, any type of automation
Whichever product you are handling, we have the components you need. Is your application complicated? We gladly accept challenges such as this by also offering customer-specific complete system solutions.
The reference cards provide one of our many examples from the medical and pharmaceutical field and the corresponding product series.
2-JAW PARALLEL GRIPPERS
GEP2000 SERIES
The proven GEP2000 series includes electric small part grippers for medical and laboratory automation applications that feature free positioning and workpiece loss detection, among other features. A key characteristic of the grippers is the self-locking mechanism, which ensures a secure hold on the workpiece (e.g. an infectious specimen vial) even in the event of a power drop or emergency stop.

10 million maintenance-free cycles (max.)

Mechanical self-locking mechanism

Adjustable gripping force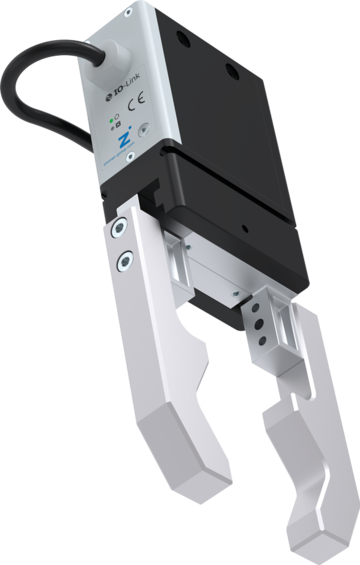 ---
HANDLING OF glass vials
HANDLING TECHNOLOGY
Position detection identifies loss
The customer-specific electric gripper is used to transport vials and syringes in a filling system. Thanks to the integrated position detection of the gripper, you can detect the various products and identify any potential loss immediately.
Component
Customer-specific solution based on the GEP2000 electric gripper series

Special featuresHygienic design, IP54, media-resistant because of the use of stainless steel and PEEK, stroke lengthened to 11 mm per gripper jaw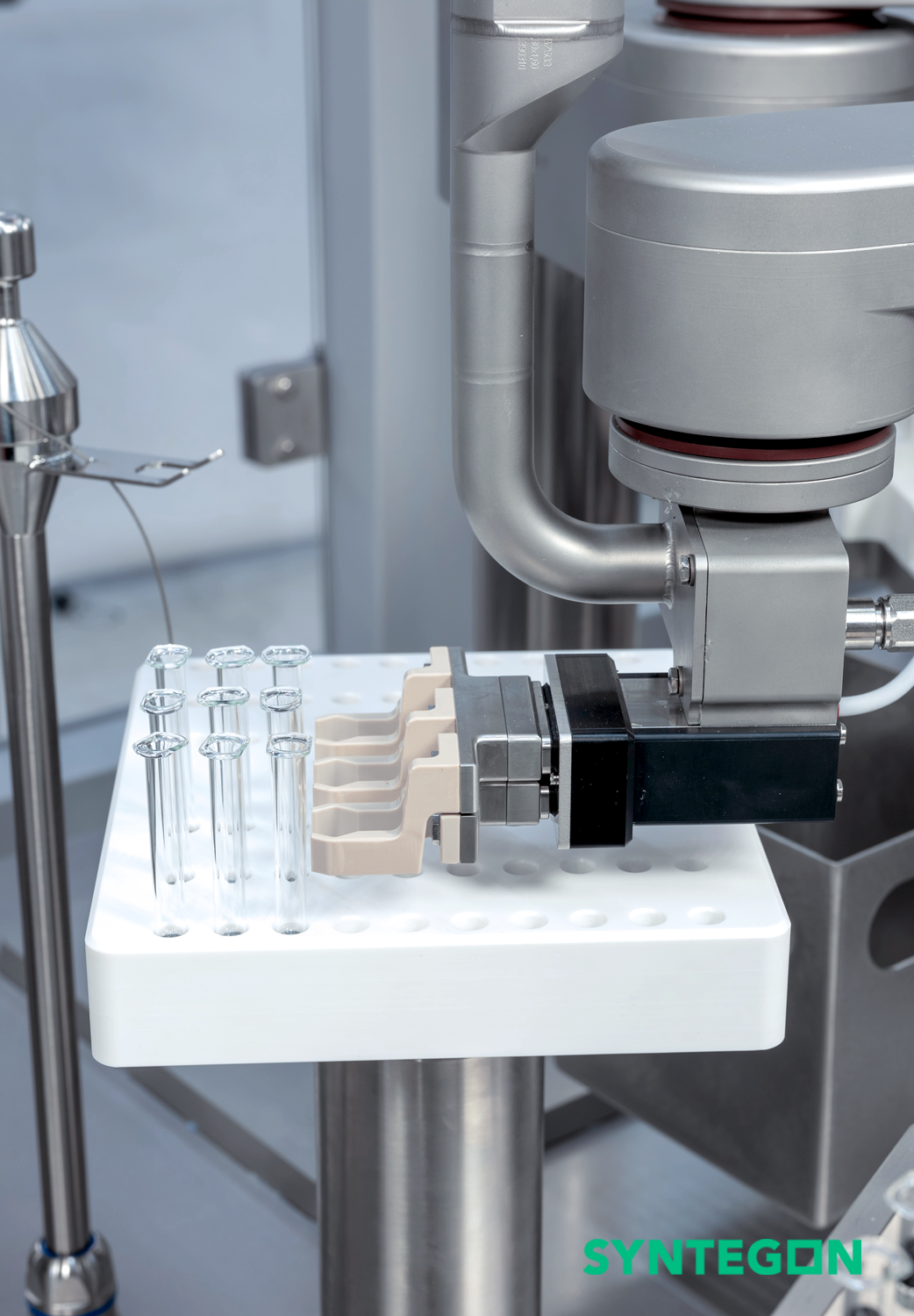 ---
OPENING AND CLOSING SPECIMENS
HANDLING TECHNOLOGY
One component – two functions
This special handling solution features a combination of rotating and gripping that enables it to serve as the decapper and recapper of specimen vials. It is also used for labeling vials or aligning their barcode so that it can be scanned in.
Component
Customer-specific solution based on the GEP2000 gripper series

Special features
Adjustable forces and positionability of the gripper and rotary module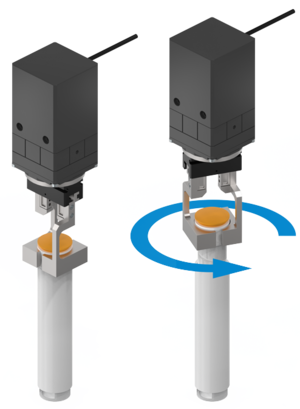 ---
2-JAW PARALLEL GRIPPERS
MGP800 SERIES
For handling reagent glasses and other small parts, Zimmer Group offers you best-in-class performance with MGP800 series pneumatic grippers. Experience their ruggedness, durability and performance firsthand and take a closer look at our smallest models. The most lightweight is a mere 0.008 kg.

10 million maintenance-free cycles (max.)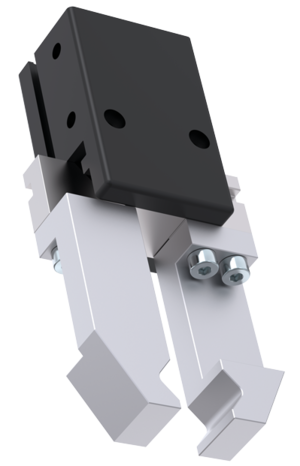 ---
TRANSPORT OF INSULIN-STICKS
HANDLING TECHNOLOGY
Standard grippers for individual solutions
Insulin sticks are transported in a production plant using a pneumatic standard gripper of the MGP800 series. The small design of the grippers enabled the pitch to be reduced to a minimum, thus allowing multiple grippers to be positioned next to each other.
Component
MGP800 series

Special features
Use of standard components makes adaptations unnecessary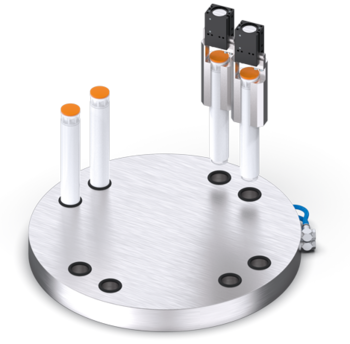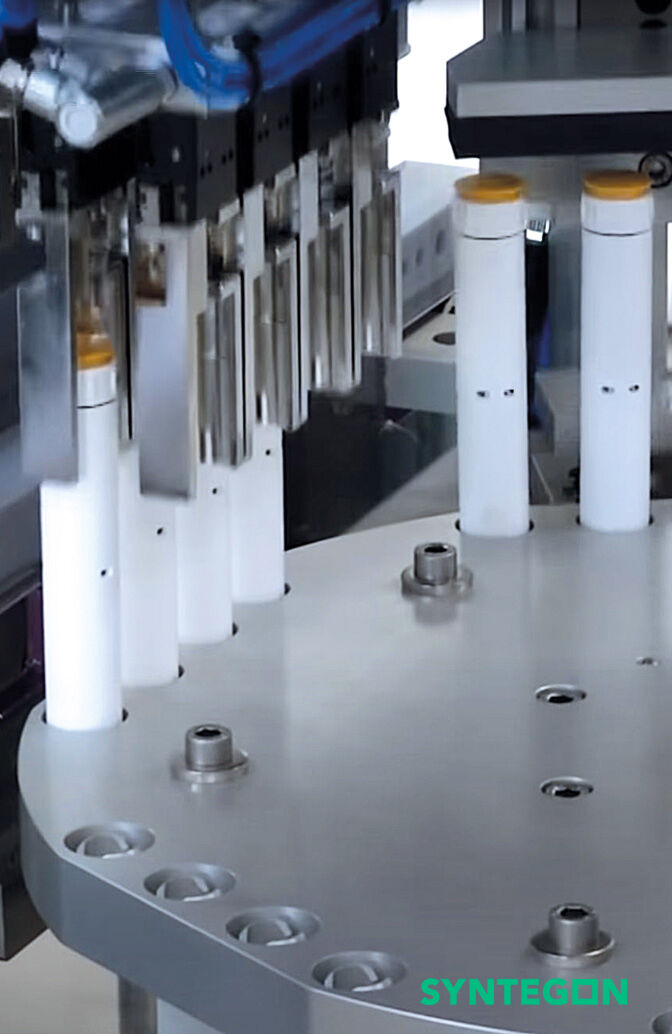 ---
2-JAW PARALLEL GRIPPERS
GEH6000IL SERIES
The GEH6000IL series electric grippers with long stroke are equipped with a servo drive with integrated controller. The brushless drive technology guarantees not only individual force adjustment, but also control of the position and speed. Because laboratory automation is characterized by work with fragile glass and plastic, the grippers also have a mechanical self-locking mechanism, which prevents a vial from falling in the event of a power failure.

Mechanical self-locking mechanism

Adjustable gripping force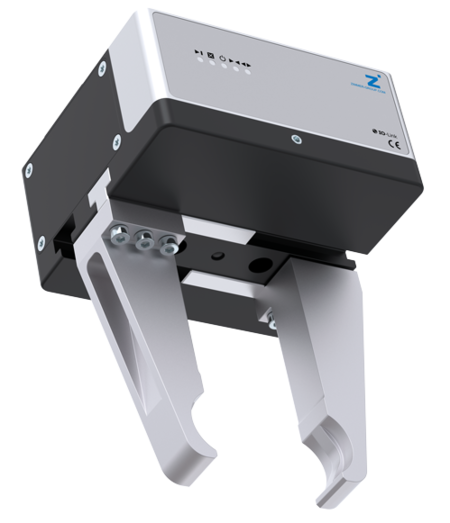 ---
REAGENT GLASS HANDLING
HANDLING TECHNOLOGY
The best choice for safety and reliability
A positionable electric gripper is used for the highly sensitive transport of racks in laboratory automation. The adapted gripper based on the proven GEH6000IL series is equipped with a mechanical self-locking mechanism to prevent opening and thus the loss of the rack in the event of a power failure.
Component
Customer-specific solution based on the GEH6000IL electric gripper series

Special features
Hygienic design, IP54, media-resistant because of the use of stainless steel
---
ELECTRIC CLAMPING ELEMENTS
LKE SERIES
Fast, efficient, flexible
The fast electric clamping elements are notable primarily because of their integrated status query, which is output via digital status signals. The kinematics are supplied by means of an eccentric shaft with a mechanical self-locking mechanism. Based on the self-locking functional principle, when closed, the full holding force is sustained in the event of a power drop or while in a de-energized state, ensuring accurate positioning.
Energy efficient (bistable)

Integrated electronics

Flexible cable outlet

Available for all common profile rail guides

Emergency actuation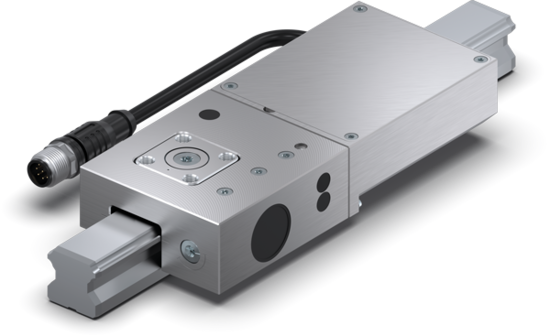 ---
FASTENING OPERATING ROOM TABLES
Linear technology
De-energized clamping with status query
An electric clamping element is used to secure a patient table in place. The element features de-energized clamping and an integrated status query. In case of a power failure, the element can be opened manually at any time.
Component
LKE electric clamping element

Special features
Securing operating room tables in place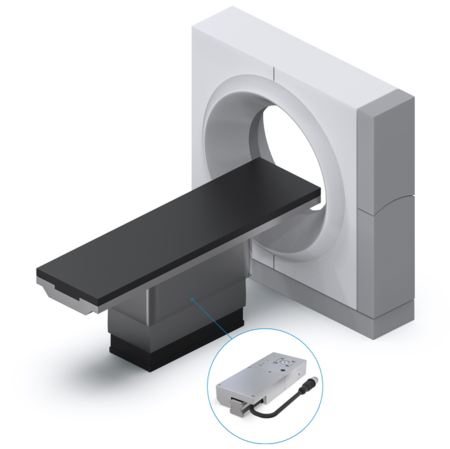 ---
INDUSTRIAL SHOCK ABSORBERS
POWERSTOP PRODUCT FAMILY
Perfected for industry and medicine
The unique spiral groove technology is a defining feature of PowerStop industrial shock absorbers. In contrast with conventional industrial shock absorbers with throttle bores, the constantly tapering spiral groove causes precise, low-vibration damping absorption. They achieve maximum energy absorption with the smallest installation space through optimal utilization.
Low-vibration damping

Bio oil

Hydrostatic piston guide

Stainless steel

Integrated oil reserve

Optimal protection can be selected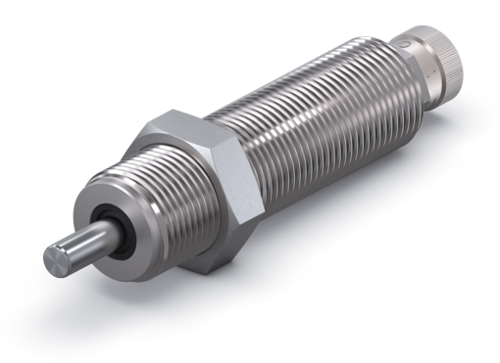 ---
DAMPING PROSTHESES
Damping technology
Damping for greater comfort
Special shock absorbers (based on the PowerStop series) are used in prosthetic knee and hip joints for damping in the swing and standing phase. The dampers can be adjusted individually in the push and pull directions. The characteristic curve can be adapted to the movement sequences in the process. This enables high energy absorption in the smallest space.
Component
Special shock absorbers (PowerStop product family)

Special features
Individual adjustment and high energy absorption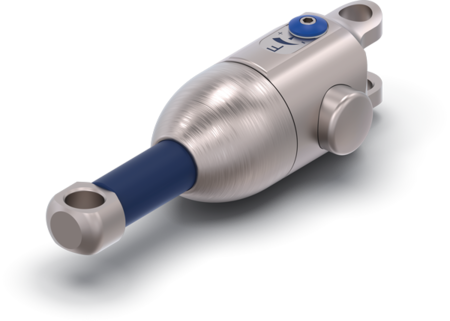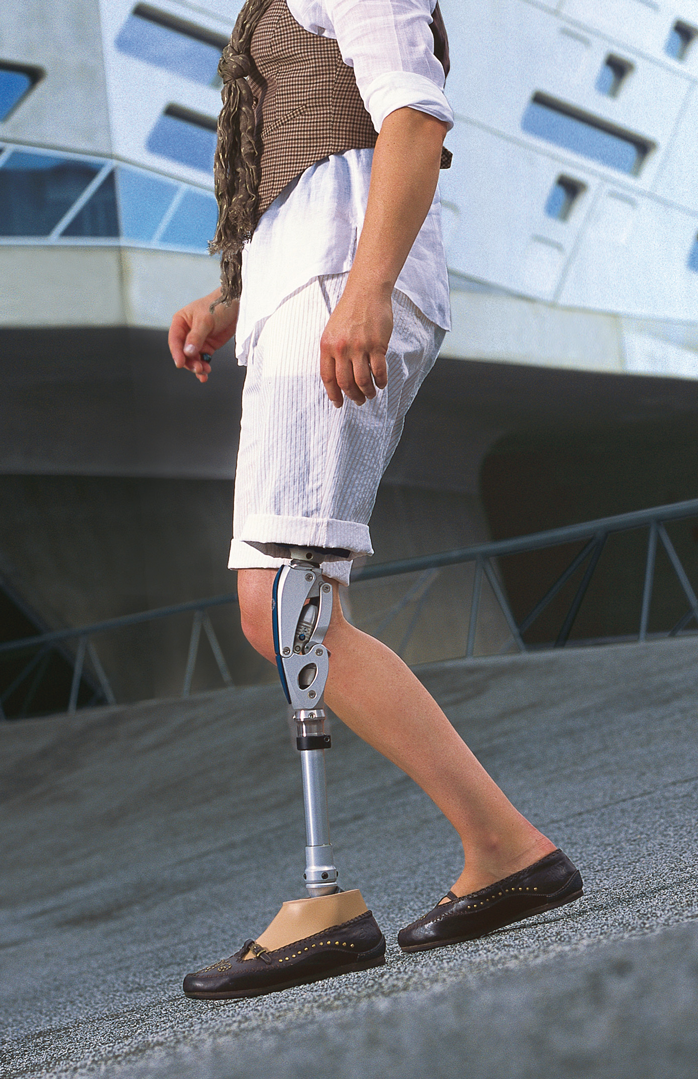 ---