At this year's Smart Production Solutions in Nuremberg, the Zimmer Group's main focus will be on innovations in the field of robot communication. Our Comfort Apps and SCM packages offer comprehensive solutions for integrating mechatronic grippers and, as part of the MATCH Eco-System, easily connect grippers and robot controllers. Advances in hardware and software facilitate commissioning as well as control and revolutionize the work with cobots and actuators. We will show exciting, practical applications and look forward to your visit in Hall 3A, Booth 326!
---
SMART COMMUNICATION MODULE
SMART GRIPPER, SMART INTEGRATION
For the smooth configuration of your plant components, Zimmer Group offers comprehensive software packages and digital services. Our Comfort Apps and SCM packages offer convenient solutions for integrating mechatronic grippers and, as part of the MATCH Eco-System, easily connect grippers and robot controllers. The Comfort APP offers different variants depending on the communication type. The new guideZ for Robots interface creates an innovative solution for Universal Robots that is second to none. The setup and operation of cobots and actuators are once again simplified. Do you have any questions? We will be happy to advise you in a personal conversation about our software packages!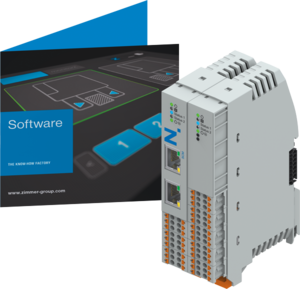 ---
Wireless Communication Module
WIRELESS FUNCTIONALITY FOR ALL IO-LINK GRIPPERS
With the Wireless IO Communication Module, IO-Link signals are transmitted by radio. This opens up entirely new approaches in robotics and mechanical engineering, where the integration of sensors and actuators is just a mouse click away. Extensive combinations in complex systems can now be created and used in a simple manner. In addition, sources of error due to moving data lines or wearing parts are eliminated. Regardless of the design of the existing robots or plant base, all Zimmer Group IO-Link gripper components can be used. Learn more about the benefits of this effective communication solution!
Compatible with all Zimmer Group IO-Link grippers, regardless of the design of the existing robot / plant base.
No complex cable routing through the robot or system (slip rings, contact elements, etc. not required)
No source of error due to moving data line (mechanical obstacle, broken wire), wear part eliminated
Scalable, easy expansion with additional grippers by pairing on the master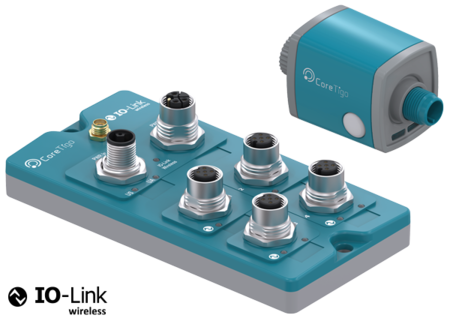 ---
DIGITAL SERVICES
digitalZ
Equipped for digital transformation: with its comprehensive software package, Zimmer Group offers you the digital service you need to reduce production costs, improve quality, increase flexibility and ultimately boost sales. Fast and flexible solutions are in demand. This also applies to automation in mechanical and plant engineering. The digitalZ software portfolio accompanies you from planning to implementation and beyond so that production reliability, productivity and cost reduction of your plant are the focus.
---
MOTOR SPINDLES OF THE ZIMMER GROUP
Winners in all (performance) classes
Maximum performance
Maximum workpiece quality
Highest productivity meets finest precision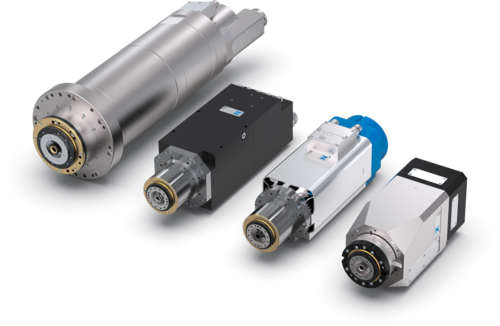 ---
AUTOMATIC TOOL CHANGER
SERIES FWR
Goodbye, external control! The new FWR product series of the tool changer is automated. The possible applications range from an occasional manual change to fully automated robot cells. If required, the change process can be carried out manually without any problems using only one hand. Visit us at the SPS and convince yourself of the new generation of tool changers!
Automated mold change without external control
Manual mold change
Optional media transfer

---
OPENING AND CLOSING SPECIMENS
A wonderful example of handling technology from the pharmaceutical industry: This handling solution supports the decapper and recapper of sample tubes by combining turning and gripping. Other areas of application are, for example, the labeling of vials or the alignment of the barcode of sample tubes.
Component - Customized solution based on the GEP2000 electric gripper series.
Special features - Adjustable forces and positionability of the gripper and the rotary module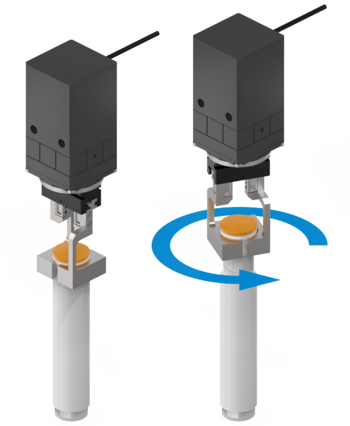 ---
---
Do you have any questions?