Innovations 2022
Innovations from our technology areas
---
---
ADDITIONAL SIZES
GPH8000 SERIES
The high-performance grippers of the GPH8000 series now come with a new stroke variant. With a stroke of 220 mm per gripper jaw and a gripping force of 3300 N, there are no limits to the machine loading of large workpieces. The grippers of the new variant can be equipped with gripper fingers with a total weight of 90 kg as well as a maximum length of 900 mm.
In the standard version, they are equipped with wipers on the round guide, corrosion protected and optimally sealed with IP54 protection. Despite the flat design, the Zimmer Group grippers are simply unbeatable when used in the harshest environmental conditions thanks to their durability and torque load.
Technical data
Order no.
GPH84220N-00-A
GPH84220CL-00-A
GPH84220CL-30-A
Synchronized gripper finger
Yes
Yes
Position retention via clamping element
Yes
Yes
Stroke per jaw [mm]
220
220
220
Gripping force in closing / opening [N]
3300/3300
3300/3300
3300/3300
Length of the gripper fingers max. [mm]
900
900
900
Protection to IEC 60529
IP54
IP54
IP54
---
EXPANDED ACCESSORIES
MGP800 SERIES
The MGP800 series with its efficient 2-jaw parallel grippers now has some expanded accessories. The new L-shaped jaws can now be used for an easier connection to your individualized, specific gripper fingers, which ensures fast and easy side installation. The highest absorption of force and torque enables flexible use with the highest dynamics, while the weight and force optimization lowers the costs of your application since all components have a smaller scale.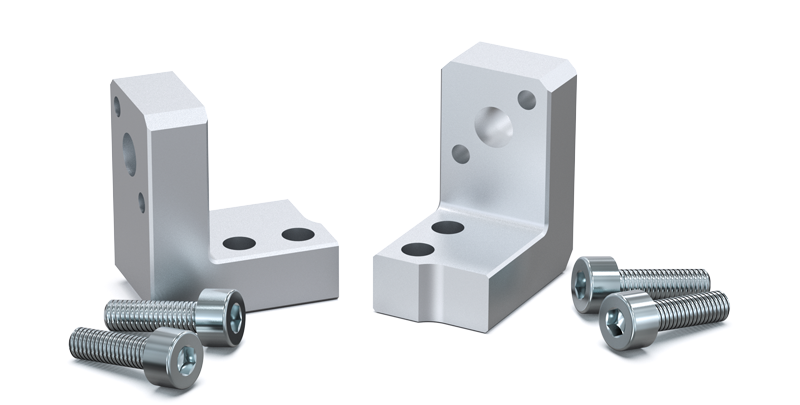 ---
AUTOMATIC TOOL CHANGER
FWR SERIES
The new FWR series of automatic tool changers operates entirely without external control. In interaction with the storage station, this reliable quick-change system is actuated mechanically during retraction. As a result, no additional power supply is required for the change operation. The tool changer itself is only displayed via the robot movement and locked via the slide located in the loose part. Along with the air and vacuum transmission, a large application area results from the two mountable energy elements. A manual tool change can be done with just one hand because all connections are on one side. If required, an additional safety function enables a change to be performed only via the storage station by loosening two screws. The possible applications range from an occasional manual change to use in fully automated robot cells.

Technical data
Order no.
FWR40F-00-A
FWR50F-00-A
FWR63F-00-A
FWR80F-00-A
Connecting flange according EN ISO 9409-1
TK40
TK50
TK63
TK80
Pneumatic energy transfer [quantity]
4
4
4
4
Handling weight max. [kg]
13
16
20
29
Tool weight max. [kg]
5
7
10
12
---
NEW AXIS COMPENSATION MODULE
ZR1000 SERIES
Compensation in Z direction
The new ZR1000 series axis compensation in the Z direction. This axis compensation is used, for example, in joining processes. The joining forces can be adjusted to the application depending on the set pressure. With a stroke of 8 mm to 20 mm, the new ZR1000 series is also suitable for handling tasks such as machine equipping or pick & place. The steel-on-steel construction of the integrated needle guide enables the handling of high forces and torques, a long service life as well as the highest level of precision.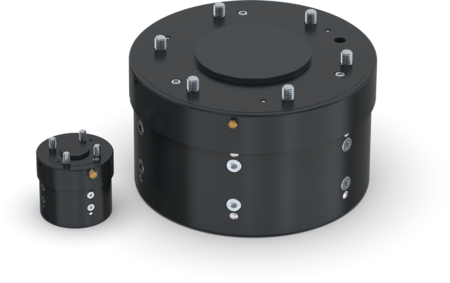 Technical data
Order no.
ZR1040-A
ZR1050-A
ZR1063-A
ZR1080-A
Connecting flange according EN ISO 9409-1
TK40
TK50
TK63
TK80
Stroke in Z-axis [mm]
8
8
10
10
Holding force at 6 bar [N]
250
500
1000
1500
Weight [kg]
0.5
0.7
1.1
1.8
Technical data
Order no.
ZR1100-A
ZR1125-A
ZR1160-A
ZR1200-A
Connecting flange according EN ISO 9409-1
TK100
TK125
TK160
TK200
Stroke in Z-axis [mm]
15
15
20
20
Holding force at 6 bar [N]
3000
4500
6500
11500
Weight [kg]
3.1
5.1
8.8
13.8
---
NEW COLLISION PROTECTION
CRR SERIES
Protection against collisions from any direction
In case of a collision, the new CRR product series provides practical collision protection and can prevent damage to your tool or workpiece by permitting a compensation movement in multiple directions. This deflection triggers a signal that can be used in the control system to initiate the emergency stop. The advantage the new CRR series has over the current CSR series is an automatic return feature. Here, a spring-supported pneumatic piston returns in order to continue with the process after a collision. Then, the connecting flange for the tool is brought back to the starting position – no matter from which orientation and position. This makes it possible to get a system back up and running from a safe distance, without getting close to moving parts. This is also an advantage when entering the system is not desired, not safe or is possible only with difficulty. In any case, you can continue working in almost no time.
High-performance and versatile in use
The technical specifications are an additional highlight. Compared to the benchmark, the CRR series offers a larger compensation stroke or compensation angle with similar installation space, providing added safety for your application. The maximum forces and torques that can be withstood are, on average, around 30% higher than the benchmark, making even smaller components suitable for high handling weights. Despite its rugged and high-performance design, the CRR series is also suited to sensitive applications. By setting the applied air pressure, you can directly affect the forces and torques at which the collision protection is triggered.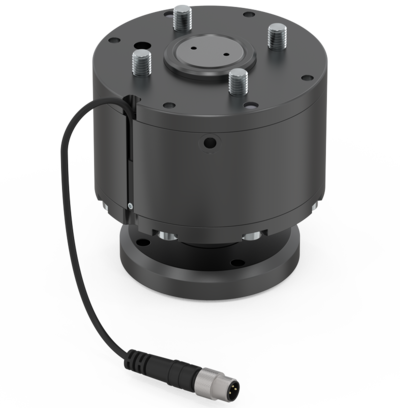 ---
SUPERIOR TECHNOLOGY IN PERFECTION
INDUSTRIAL SHOCK ABSORBER POWERSTOP
The unique spiral groove technology is a defining feature of PowerStop industrial shock absorbers. In contrast with conventional industrial shock absorbers with throttle bores, the constantly tapering spiral groove causes precise, low-vibration damping absorption. The PowerStop industrial shock absorber achieves maximum energy absorption with the smallest installation space through optimal utilization.
New Adjustable Energy series – the adjustable absorbers
The new Adjustable Energy series makes it possible to achieve infinitely adjustable – and thus ideal – energy absorption settings in the damping process. In addition to the normal stroke version, it is also available in a long-stroke version whose adjustability further increases the benefit of extremely smooth damping.
There are several ways to find the right industrial shock absorber for your own application. One fast and easy option is to use the online Product Finder from the Zimmer Group. This convenient tool allows users to make well-founded selection decisions quickly and combines calculation, selection guide and configurator functions in one tool. Using this software, users can not only perform all of the required calculations, they can also make an informed selection from the product range based on this data and supplement the selected dampers with additional accessories.
ADDITIONAL SIZES
DKHS1000 SERIES
High dynamics and long service life – advantages when used in combination with torque drives
The DKHS1000 series can take advantage of the fast closing time of under 30 milliseconds, particularly when used in combination with high-dynamic torque drives. This ensures nearly 10 times faster closing times compared to pneumatic solutions.
Innovative and proven operating principles applied in a beneficial manner
Holding torques of up to 8000 Nm can be achieved when combined with the large piston surface area via the pre-loading of the housing material. Based on customer deployments, a B10d value of over 5 million cycles can be achieved under application conditions.
Accuracy and holding torque for various requirements
Holding torques are specified depending on the rigidity for an arcsecond when used in machining processes and for five arcseconds for the design of safety requirements.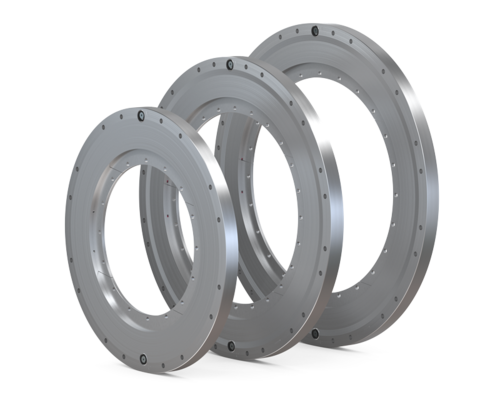 Technical data
Order no.
DKHS1240-00-A
DKHS1300-00-A
Holding torque 5″ [Nm]
2200
3100
Holding torque 1″ [Nm]
1600
2500
Shafts Ø [mm]
240
300
Operating pressure min./max. [bar]
100/110
100/110
Closing time [s]
0.03
0.03
Opening time [s]
0.05
0.05
---
pneumatic rotational clamping element
DKPS1000 SERIES
Pneumatic or hydraulic – the choice is up to you!
Increased performance requirements in tooling machines and an increased degree of safety necessitate powerful and innovative solutions. Following the successful market launch and series end of our DKHS1000 series hydraulic rotary clamp, the DKPS1000 series with pneumatic control and digital sensing is here just in time for AMB.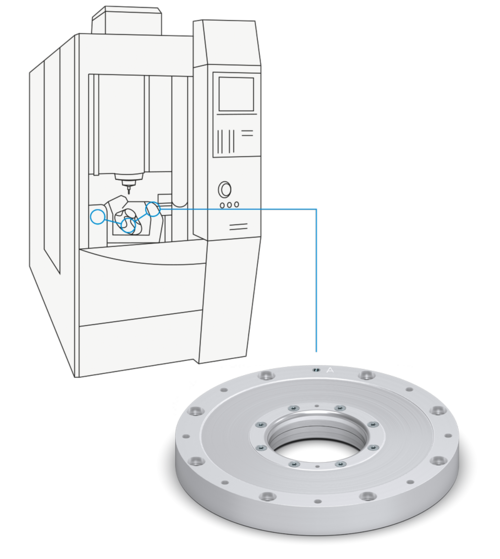 An efficient and fast process sequence is a requirement for all of our components, and the DKPS1000 is no exception to this. The DKPS1000 can make use of its full potential thanks to the optional digital sensing. Additional safeties for switching times are no longer required.
High holding forces – without additional air and without compromising cycle stability
The new DKPS1000 series not only surpasses the non-pressurized holding force of rotary clamps available on the market, it also features an increased service life compared to the benchmark. Both of these achievements equally ensure enhanced safety when it comes to safeguarding rotation and swivel axes. This also increases system availability.
Torque absorption from shafts
Safety clamping of the torque motor
C-axis clamping
Clamping and securing of swivel bridges
Clamping of the spindle swiveling axis
Clamping of the spindle swiveling axis
ZERO-POINT CLAMPING SYSTEM
SHORT SET-UP TIMES, GREATER PRODUCTIVITY
SPN Advanced series – the superior
Unique in its form and composition, the zero-point clamping system of the Advanced series from the Zimmer Group offers a wide range of functions. This includes functions such as the PLUS connection, a pneumatic piston position sensor, a positioning check as well as the blow-out function of the pin opening and the contact surface cleaning.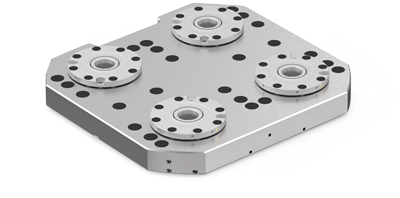 Locking by means of clamping segments
PLUS connection
Rustproof – tempered stainless steel
Two integrated rotation locks
Integrated positioning check
Pneumatic piston position sensing
Integrated blow-out function
Two connection options
Optional with an automatic seal
SPN Standard series – the economical
The Standard zero-point clamping system from the Zimmer Group concentrates on the essential with two integrated rotation locks. This means that basic functions such as unlocking and the PLUS connection, above all, are paramount. Form-fit locking is also achieved for this zero-point clamping system via clamping segments.
Concentration on the basic functions
Locking by means of clamping segments
PLUS connection
Rustproof – tempered stainless steel
Two integrated rotation locks
Optional automatic seal
MAXIMUM REPEATABILITY AND PRECISION
The zero-point clamping system features a repeatability of 0.005 mm thanks to its sophisticated design. The system provides a high-precision, torsion-resistant base due to its high clamping forces and the consistent use of tempered stainless steel. This helps to stabilize parts that tend to vibrate.
INCREASED PROCESS RELIABLITY
The zero-point clamping system reduces errors during milling, rotating, wire or die eroding, drilling, lasering and measuring. The maintenance-free design also contributes to superior process reliability.
Thanks to process automation, this zero-point clamping system combines productivity with the highest precision. In addition to a minimum cleaning and maintenance effort, the machine setup times of the system are also reduced by up to 90%. Several sequential workpiece clamping processes are linked in various machining cells and can be equipped with identical clamping system geometries, this allows you to exploit synergy effects that have been left unused until now. The component carrier with the zero-point clamping system ensures the highest precision and cost effectiveness while accompanying the finished part on its way through the machining process.
---
EXPANDED PROUCT PORTFOLIO
ZIMMER GROUP MOTOR SPINDLES
Winner in all (performance) classes
The motor spindle is one of the essential components of a tooling machine, milling center or robot-based end-of-arm solution. The mechanically integrated motor solutions are extremely compact, highly productive and achieve maximum stiffness, which is required for the highest speeds and precise rotation. The Zimmer Group offers you the perfect product range for this. Whether you are looking for a motor spindle for use in milling machines or machining centers, you will find economical standard motor spindles, air-cooled spindles in the low and medium performance ranges, fluid-cooled high-performance spindles and, of course, the matching accessories from inverters to cooling units, C-axes and connection sets in our various spindle kits.
Air and water-cooled high-frequency spindles in a variety of output ranges
Support on topics such as power dimensioning, energy supply, cooling or integration into the control system or service
Repair and on-site service by expert staff
Spindle I/O link communication module allows condition monitoring or predictive maintenance
Extremely reliable, high performance density and high compatibility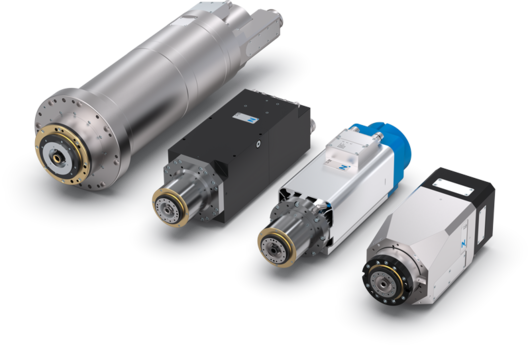 ---
NEW TOOL CHANGER
WWS SERIES
With the WWS series, the Zimmer Group offers the right changing unit for robots and optimally expands the modular construction system of motor spindles. The changing unit for robots includes a suitable storage station and is specially designed for the motor spindle. It can also be installed later if needed, which would enable an automatic spindle change. Specially designed robot changing units are available for motor spindles that are designed for use with robots. The robot changing units provide a reliable interface between the robot and motor spindle. The loose part is attached to the motor spindle, while the stationary part is mounted at the end of the robot arm. A storage station is supplied to set the motor spindle aside when it is not being used.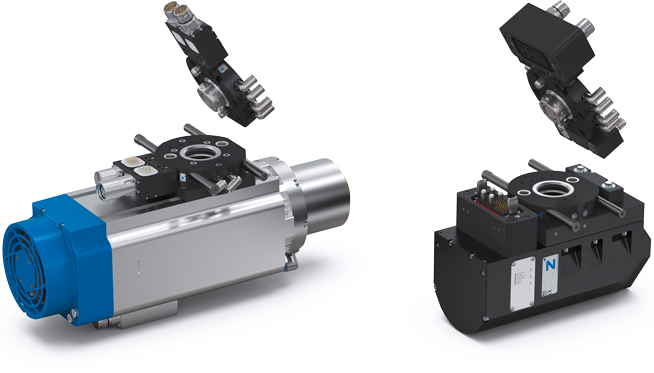 ---