PROFILE DAMPERS BASICSTOP
TPC high-performance plastic: Thermoplastic elastomer on a copolyester basis High durability and resistance to media * No swelling, embrittlement or decomposition of the material, as is the case with rubber * Large temperature range
Special process for conditioning the material: High damping percentage and high energy absorption in the smallest space Reliable return behavior Increased service life in comparison to rubber pads
Design of the structure: Standard product portfolio with 3 series x 2 degrees of hardness Individual configuration for customized solutions possible
Expertise in design and production at Zimmer
Usability independent of velocity
100% recyclable due to thermoplastic properties
* For chemical and media resistance see Damping technology catalog
The BasicStop profile dampers feature high-performance plastic and a specifically developed profile. It acquires its unique properties after receiving a special treatment. These properties allow it to absorb maximum amounts of energy even under the toughest conditions, while also achieving high damping rates.
Conventional rubber pads only have a very small damping percentage and are more of a spring than a damper. Use of these pads hardly takes any kinetic energy from the system, which in turn can lead to damage to the system.
This is where the BasicStop brand profile dampers are setting new standards in the realm of material damping with their high damping percentage. Through the friction in the material, a large part of the kinetic energy is converted into heat, whereupon the structural damper returns to its original form (viscoelastic damping).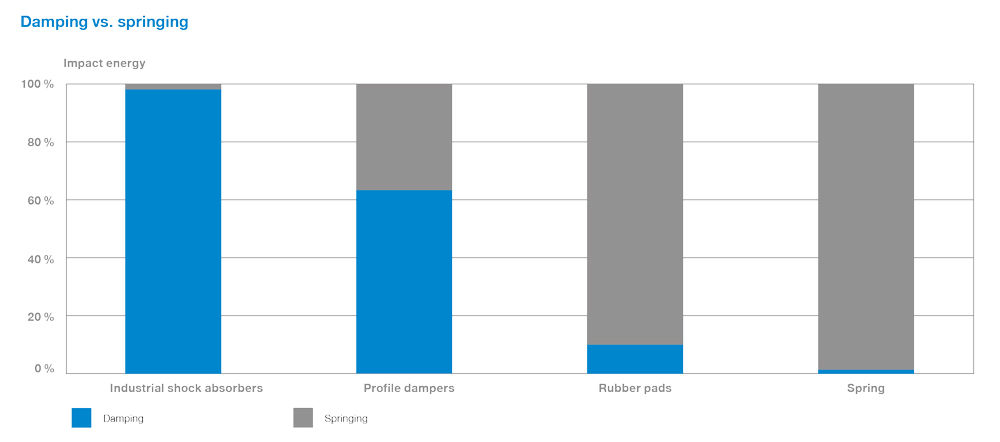 Emergency stop protection in the movement axis of a spindle tailstock
End-position damping in the linear axes of production modules from ELHA
Machine door damping in a machining center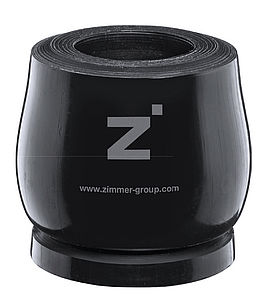 Design: Axial
Degrees of hardness: 55D, 40D
Energy absorption per stroke: 2 - 2,951 Nm
Damping percentage: up to 75%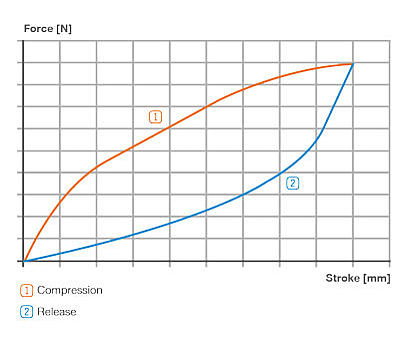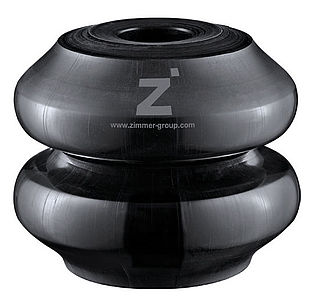 Design: Axial
Degrees of hardness: 55D, 40D
Energy absorption per stroke: 450 - 17,810 Nm
Damping percentage: up to 65%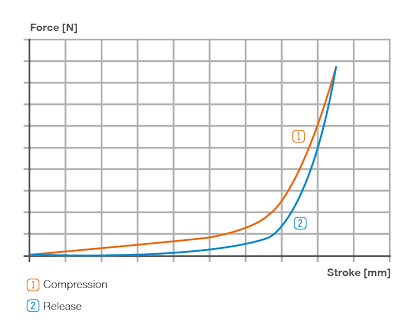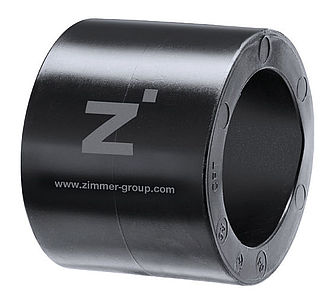 Design: Radial
Degrees of hardness: 55D, 40D
Energy absorption per stroke: 1.2 - 427 Nm
Damping percentage: up to 60%